Here'S How To Create Show-Stopping Makeup For Brown Dress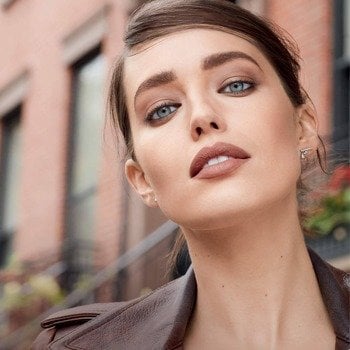 Planning to wear your favourite brown dress for a party but not sure of how to do your makeup for a brown dress? You've come to the right place. Your basic makeup may go well with any dress, but why settle for less when you can create a show-stopping makeup with a brown dress? Makeup is a part of an overall look, and it will make or break your final look. If you are confused about choosing the perfect lip makeup or eye makeup for a brown dress, don't worry, we've got you covered. Keep reading to find out some brown dress makeup ideas and look the best from the rest.
1. Ace the base
If you plan to wear a gorgeous brown gown, here's what you can do to make your brown gown makeup stand out. Begin your face makeup with a primer that will help you create a smooth canvas for the rest of your brown gown makeup. Further, apply a foundation to create an even complexion and smooth texture. Follow this step by using a concealer to banish the blemishes and highlight certain parts of your face such as your eye contours and the top of your cheekbones. Go for a shade or two lighter to create a brightening effect. Finish off your makeup for a brown dress by using powder.
Our picks:
• Primer – Maybelline Fit Me Primer
• Foundation – Maybelline Fit Me Matte + Poreless Foundation
• Concealer – Maybelline Fit Me Concealer
• Powder – Maybelline Fit Me Matte + Poreless Pressed Powder
2. Colour and highlight
Don't underestimate the power of blusher! Give your complexion a pop of colour and make your skin look fresh and healthy with a peach or wine blush. To take your makeup for a brown dress up a notch, pair the blush with a highlighter. Apply it on your cheekbones in an upward motion and further, apply it to the bridge and tip of your nose and on your cupid's bow. This will enhance your natural radiance and make you stand out within the crowd.
Our picks:
• Blush – Maybelline Fit Me Mono Blush
• Highlighter – Maybelline Facestudio Master Chrome Metallic Highlighter
3. Enhance your eyes
Planning to wear an elegant brown saree? Your eyes should speak volumes with your saree. Remember, a good eye makeup for a brown dress can do wonders to your look. Start your brown saree makeup by filling in sparse or uneven eyebrows. You can go for various styles to apply eyeshadow for the brown dress such as metallic, smokey eyes with wingtips or the cut crease look to create magic. If your wish to go a step ahead, add coloured eyeliner to your eyes. For the perfect finish, complete your brown saree makeup with two coats of mascara.
Our picks:
• Eyebrow – Maybelline Fashion Brow Cream Pencil
• Eyeshadow – Maybelline Nudes Eyeshadow Palette OR Maybelline City Mini Eyeshadow Palette
• Eyeliner – Maybelline Colossal Bold Liner OR Maybelline Tattoo Studio Gel Eyeliner Pencil
• Mascara – Maybelline Colossal Waterproof Mascara
4. Play up your pout
If you want to keep your lip makeup simple and subtle, wearing a simple tinted lip balm is fine. But if you want your lips to be the focal point of your makeup for a light brown dress, go for the bold red lipstick shade. Looking forward to experimenting and playing around with contrasting colours? Try fuchsia lipstick.
Our picks:
• Lip balm – Maybelline Baby Lips Loves Color Lip Balm
• Lipstick – Maybelline Superstay Matte Ink Liquid Lipstick Rogue Reds OR Maybelline Color Sensational Creamy Matte Lipstick – Flaming Fuchsia
Finalise your makeup for a brown dress by using the Maybelline Virtual Try-On tool that allows you to experiment with different makeup products virtually, from the comfort of your home, and without you having to spend a penny. Once you are confident, try these brown dress makeup ideas and have all eyes on you at your next event.