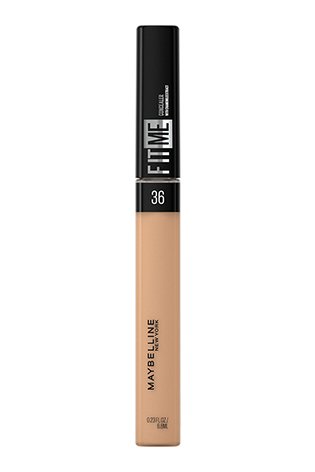 By clicking on this button, you are about enter an augmented reality visual experience.
Presenting Maybelline Fit Me Concealer – a makeup product that doesn't mess with you and lets you bring out your inner beauty flawlessly. With the Maybelline liquid concealer, you'll get the ultimate touch-up coverage for any dark spots or imperfections. So, embrace the goodness of Maybelline liquid concealer and bid adieu to any imperfections that hold you back.
Get flawless finish and natural coverage with Maybelline liquid concealer. Its oil-free formula conceals dark circles, redness, flaws, and blemishes. What's more, Maybelline Fit Me Concealer suits oily skin, dry skin and comes with a fragrance-free, non-comedogenic formula. Dermatologist tested. Ophthalmologist tested.
Step 1: For a flawless base, apply face makeup products like primer and foundation, then move on to concealer makeup.
Step 2: Dot Maybelline Fit Me Concealer on the imperfections or under the eyes.
Step 3: Using your fingertips or beauty blender, pat the product gently until it blends into your skin (follow our guide on how to apply concealer and master the art of applying concealer makeup).
Step 4: Apply Mayeblline Fit Me Compact Powder to avoid cakey look.
Complete the rest of your makeup using Maybelline kajal, mascara, eyeshadow, and lipstick. If you are confused about which eye makeup or lip makeup products would suit you, head toward the Maybelline Virtual Try-On tool and select a suitable product.
FAQ
To know which Maybelline concealer shades will suit your unique skin tones the best, head to the Maybelline Shade Finder tool. This advanced tool from the house of Maybelline New York helps you find your ideal foundation and concealer shade match on the basis of your skin tone and undertone.
Maybelline Fit Me Concealer is best used for hiding redness, dark spots, dark circles, blemishes, and other skin imperfections and achieving a flawless, natural, and beautiful complexion. Maybelline Fit Me concealer shades are available in 9 shades so you can definitely find one that suites your skin tone.
Maybelline New York Fit Me concealers are priced at Rs. 549 in India. These affordable concealers are available in 9 shades and can help you get a natural-looking flawless complexion effortlessly without burning a hole in your pocket.
Yes, Maybelline New York Fit Me Concealer is safe to use for people with acne-prone skin. This Fit Me Concealer is a dermatologist-tested, non-comedogenic concealer and comes with an oil-free formula. It means this concealer won't clog the pores of your skin and can effectively reduce the chances of developing acne.
Maybelline Fit Me concealer is ideal for oily skin and dry skin. Further, this concealer is dermatologist-tested hence can be safely used on your skin. You can choose your perfect concealer buddy from the 9 Maybelline Fit Me Concealer shades and flaunt spotless natural-looking skin confidently.