FIT ME MATTE + PORELESS LIQUID FOUNDATION
FIT ME MATTE + PORELESS LIQUID FOUNDATION
Rs.599&nbsp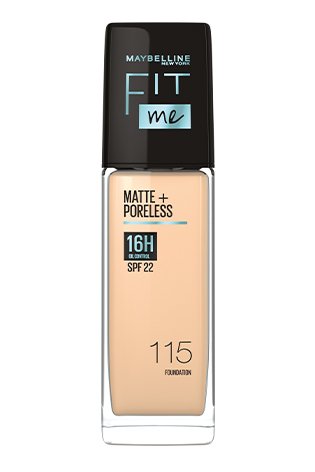 FIT ME MATTE + PORELESS LIQUID FOUNDATION
Rs.599&nbsp
By clicking on this button, you are about enter an augmented reality visual experience.
MAYBELLINE FIT ME MATTE+PORELESS foundation is made to fit the diverse Indian skin tones. This Fit Me Foundation is ideal for normal to oily skin and refines pores for a natural-looking, glowing skin. This daily use foundation offers seamless coverage, is super-blendable and comfortable on the skin, and works wonders for acne-prone skin. What's more, the Fit Me foundation shades are curated to suit every Indian skin tone.
This Maybelline Fit Me Foundation is tested dermatologically, allergy tested and non-comedogenic.
1. The Maybelline Fit Me Foundation comes in 18 shades to fit every Indian skin tone (from light, medium, dark to dusky)
2. It is a pore minimising foundation
3. The Fit me Foundation has a lightweight formula suitable for daily use
4. It gives a natural matte finish
5. It comes in an easy-to-use pump format
6. The Maybelline Fit Me Foundation is also available in a new travel friendly tube format
1. If you're wondering how to apply this foundation on face, simply pour the Maybelline Fit Me Matte+Poreless Foundation at the back of your hand
2. Use your fingertips to dot the foundation all over your face
3. Blend the Fit Me foundation with fingertips or a beauty blender for a flawless matte finish
Pair it with other face makeup products to compete your look.
FAQ
There are 18 different Fit Me Foundation shades available. These shades can match various undertones, from fair to deep skin tones. Fit Me foundation aims to provide a seamless and natural-looking finish, ensuring that women with diverse skin tones can find a suitable match for their complexion.
To choose a Maybelline Fit Me Foundation for yourself, head to the Maybelline shade finder that helps you virtually select the right shade for yourself. You can use the Live Camera feature or upload a photo from your gallery to experiment with various Fit Me Foundation shades. This way, you can pick the shade that closely matches your skin tone, right from the convenience of your home.
No, the Maybelline Fit Me Matte + Poreless foundation is more suitable for oily skin or combination skin as it offers a matte finish and helps control excess oil. Using this foundation on dry skin can make your makeup look patchy.
Maybelline's Fit Me foundation shade 125 is typically suited for individuals with a light skin tone and warm undertones. The warm undertones in this Fit Me Foundation shade have a yellow or golden hue, making it ideal for those with a slight warmth in their complexion. As always, it's essential to swatch and test the foundation on your skin to ensure the best match for your specific skin tone and undertone.
Maybelline's Fit Me foundation shade 310 is usually suitable for individuals with a medium to tan skin tone and warm undertones. However, we recommend using the Maybelline Virtual Try On tool or swatch testing the Fit Me Foundation shades before buying it.
Yes, you can use the Maybelline New York Fit Me Foundation daily. It is designed to be a lightweight and breathable formula, making it suitable for daily wear. It provides good coverage and a natural finish, allowing you to achieve a fine look without feeling heavy on the skin. Just ensure that you cleanse your face thoroughly at the end of the day to remove the foundation and keep your skin clean and healthy.