7 Ways To Use Concealer To Change Your Beauty Game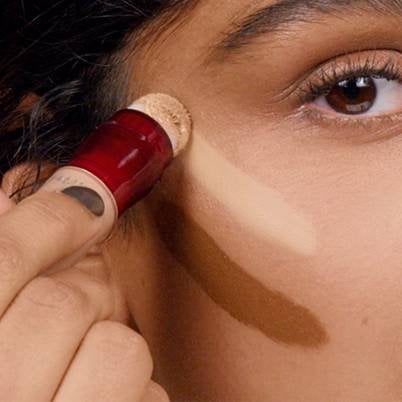 If there is one face makeup product that is the star of the show in your makeup bag, it has to be the concealer. From concealing your blemishes and dark spots to doubling up as an eyelid primer and contour, this humble product can do it all. Here are 5 ways to use concealer that do not involve any concealing!
1. Use a concealer to fake fuller lips
If you have always dreamed of a plumper pout but do not want to use fillers, we have got you covered. A relatively unknown use of concealer in makeup is to fake fuller lips and all you need for this lip makeup is a concealer, a lip liner, and your favourite lipstick. To start, prep and moisturize your lips using a nourishing lip balm. Next, apply a small amount of concealer to the outer edges of your lips and then blend it inwards using a concealer brush. Using a lip liner, trace slightly outside your natural lip line and blend it towards the center of your lips with a lip brush. Use the same lip pencil or a lipstick of the same colour and fill in the rest of your lip. To add more depth and dimension to your lip, a sneaky concealer hack is to apply a very tiny amount of concealer to the center of your top and bottom lips and blend it outwards towards the corners to create a subtle ombre effect and give the illusion of a fuller pout.
2. Use a concealer as an eyeshadow base
You know how some eyeshadows do not pop on your eyelids no matter how hard you try – well a concealer can take care of that for you as well. If you do not have a vibrant eyeshadow, use your concealer as an eyeshadow base to increase the impact of your eye makeup. Using a concealer as an eyelid primer and an eyeshadow base not only increases the vibrancy of the shades but also improves the longevity of your eye makeup. Apply a very thin layer of concealer all over your eyelid and wait for a few seconds before setting it in place with a beige or nude eyeshadow colour or a setting powder. Adding an eyeshadow base also makes it easy for you to blend the colours into a more seamless and gradient effect with no patchiness and no harsh lines. Once your eyeshadow base is set in place, continue with the rest of your eye makeup as usual. You can test out different Maybelline eyeshadow colours and give yourself a virtual makeover at home using the Maybelline Virtual Try On tool.
3. Use a concealer as cream contour
Probably one of the most common ways to use concealer on face is to use it as a cream contour. Cream contours can be expensive, we know, so why not use a dark concealer shade to chisel those cheekbones instead. Use the Maybelline Foundation Finder tool to find your exact concealer shade match. Then pick a concealer that is one or two shades darker than your skin tone and use it as a cream contour to carve out your nose, under your cheekbones, and your jawline. The light to medium buildable coverage of the Fit Me Concealer is perfect for adding a natural-looking dimension to your face.
4. Use a concealer to brighten and illuminate
Just like you can use a darker concealer shade to contour your face, you can use a lighter concealer to highlight the high points of your face and add a glow to your complexion. Use the Maybelline Instant Age Rewind Concealer in a shade or two lighter than you skin tone to add more coverage and brighten your face makeup. Apply the concealer to the center of your forehead, the bridge of your nose, the Cupid's Bow, and under your eyes to add a glow from within look.
5. Use a concealer as tinted moisturizer
Can you use concealer as foundation? Not quite, but you can use it as a lightweight, tinted moisturizer. Since concealers have a higher coverage and a different formulation than foundations, applying a concealer all over your face might make your face makeup look cakey and patchy. Instead, mix your concealer with your face cream or moisturizer to make it easy to blend. Apply the concealer and moisturizer mix all over your face using your fingertips or a foundation brush for an even and light coverage. If you want a more matte finish, set your base with a loose setting powder and lock everything in place with a setting spray.
6. Use a concealer to sharpen your eyeliner
If your winged eyeliner does not look as sharp and precise as you'd like, a simple concealer tip is to use your concealer on a precise flat angled brush and swipe it under the edge of your eyeliner to achieve a razor sharp and crisp line. Make sure that the concealer matches your skin tone or foundation as a lighter or darker concealer will make the area stand out, and not in a good way.
7. Use a concealer to define your eyebrows
Forgot to pluck your eyebrows and now the stray hairs are driving you crazy? Here is how to use concealer to get clean and defined eyebrows at home – once you are done shaping and filling in your eyebrows, use a flat brush and apply some concealer right below your eyebrows, from the start to the tail, in a smooth line. Blend the concealer down towards your eyelids to achieve a seamless base. Repeat the same process on the top of your eyebrows as well to add definition to your brows. You can also use a brightening concealer under the arch of your eyebrow to highlight the shape.
Now that you know different concealer hacks and tips, read the step by step concealer guide to learn how to apply concealer on your face the right way.