Stepwise Bengali Bridal Makeup Tutorial That You Can Recreate With Ease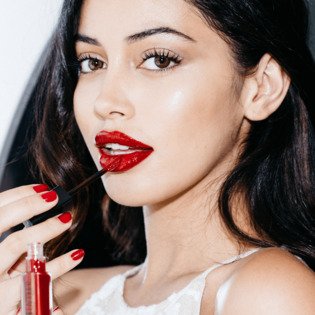 A red Banarasi saree, red bindi with kalka designed on the forehead, alta-covered hand and feet, and a white sholapith mukut – all of this come together to make a Bengali bride look perfect. The Bengali bridal look is a distinctive and artistic ode to her origin. If you're a soon-to-be Bengali bride and looking for some 'inspo' for your own Bengali bridal look, then you have come to the right place.
Not sure where to start? Don't worry as we're here to help you create a stunning, gorgeous, simple yet traditional Bengali bride look.
5 Different Bengali Bridal Looks
Before we move to the routine, let's take a look at 5 different Bengali bridal looks that you can choose from:
Bengali Makeup Look 1
• Outfit: Red and golden Banarasi saree with Zari works
• Makeup: Winged liner and kohl-filled eyes and red lips
Bengali Makeup Look 2
• Outfit: White and golden Banarasi saree with red or golden blouse
• Makeup: No-makeup look with softly kohl-lined eyes and nude lipstick
Bengali Makeup Look 3
• Outfit: Pink Banarasi saree and Zari-embroidered pink blouse
• Makeup: Pink dual-toned eye makeup, soft pink lips, and pink cheeks
Bengali Makeup Look 4
• Outfit: Yellow/bottle green and red Banarasi saree and red blouse
• Makeup: Gold smokey eyes and red/nude lips
Bengali Makeup Look 5
• Outfit: Maroon saree with a dual-tone maroon or maroon-yellow blouse
• Makeup: Smokey eyes and nude lips
Now that you know about five different simple yet traditional Bengali bridal looks, go ahead and choose the perfect one for you. You can create a Bengali bridal look by following the steps mentioned below:
Step-by-Step Guide on Traditional Bengali Bridal Look Creation
• Bengali Bridal Face Makeup
Step 1: Primer
After cleansing and moisturising your face, apply primer to prep your skin and create a smooth canvas for the rest of your Bengali bridal makeup.
Our recommendation – Maybelline Fit Me Dewy + Smooth Primer
Step 2: Foundation
Next, dot the foundation all over your face to create an even complexion and smooth texture. You can use a makeup sponge to do so. Make sure that you use a foundation shade that matches your skin tone and undertone. If you're not sure about which shade will suit you the best, you can head to the Maybelline Foundation Finder tool and get your perfect shade match.
Our recommendation – Maybelline Superstay Full Coverage Foundation
Step 3: Concealer
Apply the concealer to conceal dark circles, spots and acne marks, and banish the blemishes. Use the facelifting technique for a snatched yet natural-looking finish.
Our recommendation – Maybelline Instant Age Rewind Concealer
Step 4: Contour
Add some definition to your bridal wedding makeup by contouring your cheekbones, jawline, and nose. Blend the contour well so that your face doesn't look muddy or cakey.
Step 5: Powder
Lock the base of your Bengali bridal makeup and control shine, oil, sebum, and sweat on your face by applying powder. (You can find your ideal powder and concealer shade using the Maybelline Fit Me Finder tool.)
Our recommendation – Maybelline Fit Me Matte + Poreless Pressed Powder
Step 6: Blush
The Bengali bridal look is more focused on eye makeup. So, to make your eyes appear prominent, use lighter shades of blush such as rose or nude, and sweep it across your cheeks to give your face a naturally flushed look.
Our recommendation – Maybelline Fit Me Mono Blush – Rosy Nude
Step 7: Highlighter
Accentuate your features and enhance your natural radiance by applying a highlighter on the bridge and tip of your nose and cupid's bow.
Our recommendation – Facestudio Master Chrome Metallic Highlighter Makeup
• Bengali Bridal Eye Makeup
Step 8: Eyebrows
Remember, the eyebrows can tie your entire Bengali bridal look together. So, shape them well. Define your brows by brushing them with a spoolie and use an angled eyebrow pencil to fill them.
Our recommendation – Maybelline New York's Define and Blend Brow Pencil
Step 9: Eyeshadow
Bold eyes and shimmery eyeshadows dominate the Bengali eye makeup look. Use dark to deep eyeshadow shades such as brown and apply them to your eyelids. Then, take a bronze or golden eyeshadow shade and pat it over the brown eyeshadow.
Our recommendation – Maybelline City Mini Eyeshadow Palette
Step 10: Kajal
Show off your bold and beautiful eyes by applying a thick line of kajal that defines them.
Our recommendation – Maybelline Colossal Kajal Super Black
Step 11: Eyeliner
Use the smudge-proof eyeliner and draw a prominent wing to take your Bengali bridal eye makeup up a notch.
Our recommendation – Maybelline Colossal Bold Liner
Step 12: Mascara
Complete your Bengali eye makeup by applying mascara. Lift and sculpt your lashes from the roots to the tip and add dramatic volume by applying waterproof mascara. This will prevent smears, clumps or flakes and let you enjoy the wedding festivities without having to worry.
Our recommendation – Maybelline Colossal Waterproof Mascara
• Bengali Bridal Lip Makeup
Step 13: Lip balm
Start your lip makeup by using a lip balm. This will keep your lips soft and hydrated throughout the day.
Our recommendation – Maybelline Baby Lips Lipcare
Step 14: Lipstick
Go for a vibrant and bold red lipstick shade to complete your Bengali bridal makeup look. Try using waterproof, matte, and lightweight formulas that will let your lips stay in comfort all day. If you are not sure of which red lipstick shade that will suit you the most, you can try the Maybelline Virtual Try-On tool. This tool helps you experiment with different eye, lip, and face makeup products virtually, from the comfort of your home, without you having to spend a penny.
Our recommendation – Maybelline Color Sensational Ultimattes – More Ruby
Now that you have a list of bridal outfits with you, you can choose one and finalise your Bengali bridal look to make your big day super special. So, don't forget to make a grand entry and enchant your groom and guests.