4 Different Eyeliner Styles That You Should Try At Least Once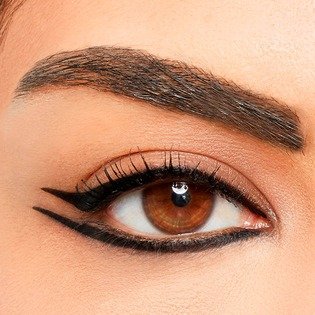 When it comes to wearing eyeliner, most of us have that one go-to style that is easy to create, which we can never go wrong with. Even a single stroke of eyeliner on your upper eyelids can bring your entire makeup look together and add drama to it. But wearing eyeliner the same way can get monotonous after a while. So, if you're looking to upgrade your eye makeup game and also experiment with different eyeliner styles and eyeshadow colours, you've come to the right place. We're here with 4 gorgeous yet simple eyeliner styles to bring out your creativity and let your eyes do the talking.
4 different types of eyeliner styles
Following is a list of 4 different types of stunning yet simple eyeliner styles:
1. Winged Eyeliner
Any list will be incomplete without the mention of the iconic and classic winged eyeliner style. Mastering a winged eyeliner may take some practice, but once you get the hang of it, there is no going back.
Step 1: Take a liquid or stick eyeliner and move the brush along the lash line.
Step 2: Extend the lower lash line with the help of an object and decide the point where you want to end the wing. That point will be the tip of your winged eyeliner and mark another point at the midway.
Step 3: Join the tip and midpoint with the lash line.
Step 4: Fill in the wing to get a sharp winged eyeliner. You can also draw the line thicker to make the winged eyeliner look more dramatic.
The best way to achieve the perfect winged eyeliner style is to use a high-impact eyeliner. These liners last longer and glide on like butter. Thanks to its intense colour payoff, you can get maximum colour in a single swipe. This way, you don't have to go over your eyeliner multiple times and ruin the shape of your winged eyeliner. There are several types of winged eyeliner styles that you can experiment with (we're coming to them next), but the classic cat-eye always holds a special place in our heart.
2. Reversed Winged Eyeliner
Like the name suggests, a reversed-winged eyeliner means doing the opposite of a regular-winged eyeliner. It is one of the different types of eyeliner styles that instantly adds drama to your eyes and let you stand out from the crowd.
Step 1: In this simple eyeliner style, draw a wing to your lower lash line.
Step 2: You can thicken the line depending on the shape of your eye.
Step 3: After this, create a wing that points towards your temple.
Step 4: Sharpen the wing depending on your eye shape.
To apply this type of eyeliner style, you can use gel eyeliner. It helps you have more control in terms of application and also gives you an intense colour. If you want to create a look that will grab the attention of people, this has to be it.
3. Tight-line Eyeliner
It is one of the most simple eyeliner styles that gives a more muted look than the dramatic effect. If you want to go for a soft and subdued makeup look, this is the eyeliner of your choice.
Step 1: Curl your lashes first.
Step 2: Line your upper lash line without extending it outwards. Keep the eyeliner close to the eyelashes' roots.
Step 3: You can choose to line your lower lash line too.
Step 4: If you want to add a little more volume to this eye look, you can add some kajal and mascara to your lashes. This will help open up your eyes and amp up your eye makeup.
This thin line will define your eyes and help your eye makeup look more cohesive. To ace this simple eyeliner style, you can opt for a liquid eyeliner with a precise brush applicator. This thin brush applicator will enable you to finely line your eyelids in one stroke!
4. Fox Eye Eyeliner
Among the several different types of eyeliner styles, this particular type has become quite popular recently. To recreate the fox eyes trend, line your eyelids to make them appear thinner and narrower.
Step 1: Drag your eyeliner from your inner corner to your outer corner.
Step 2: Keep the eyeliner stroke extremely thin.
Step 3: Maintain the same thickness throughout.
Step 4: Coat your eyelashes with mascara and complete this simple eyeliner style like a pro.
You accentuate the eyeliner in your inner corner and shape them to create an illusion of smaller eyes. The best type of eyeliner for this eye look has to be the felt tip liner. The sketch pen-like tip enables you to have more control and create a precise and consistent eyeliner look.
If you make any mistake with these eyeliner styles, simply take some concealer to correct and sharpen the edges. Make sure you choose a concealer that is closest to your skin tone. If you are having trouble in finding your perfect foundation and concealer shade, you can use the Maybelline Foundation Finder tool. With this tool you can shade match in real time, virtually, from the comfort of your homes.
If you are skeptical about how this will look, you can use the Maybelline Virtual Try-On tool and try the products out yourself virtually from your home.
Now that you know about different types of eyeliner styles you can elevate your eye makeup game with ease. With your face makeup and lip makeup looking on point, your eyeliner will add an additional oomph factor to the entire ensemble.