4 Stunning Ideas To Rock Your Makeup For A Pink Dress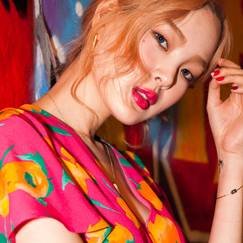 Be it a hot pink lip colour or a dusty rose evening gown, pink is every girl's best friend and almost everyone has some shades of this colour in their wardrobe and makeup kit. So, today, let's talk about pairing the two and help you create a stunning face or eye makeup for a pink dress, taking inspiration from this colour.
Whether you are wearing a coral pink saree or a fuchsia gown, in today's tutorial of 'simple makeup for pink dress,' we'll share some stunning makeup ideas that will complement every pink dress in your wardrobe and make you the definition of 'pretty in pink.'
Bright Pinks
Summer and spring are the perfect seasons to pull off the bright pink shades - think raspberry or fuchsia. Now if you're thinking of wearing bright pink gown makeup, stop right now. Don't go overboard! Instead, we'll recommend that you choose one facial feature to focus on and keep the rest of the look neutral. For instance, if you want to highlight your eyes, we'd recommend this classic eye makeup for a pink dress. Start by shaping your eyebrows. Once that is done, use a golden eyeshadow to highlight your upper eyelid, and define your eyes using a kajal and eyeliner. Follow it up with a pink blush, and nude lipstick and your pink gown makeup look is now ready.
Light Pinks
Lighter shades of pink such as baby pink, dusty rose or so, deserve bold makeup. And nothing speaks boldly like smokey eyes. If you're looking for ideas to do makeup for a light pink dress, here's what you can do. Create a smokey eye look and finish off by adding some shimmer to it. Use waterproof mascara to densify your eyelash and add volume. Next, apply rosy blush on the apples of your cheekbones and complete your face makeup by applying a highlighter just above the blush on the upper cheekbone. Complete your makeup with brown lipstick and style yourself pretty with accessories.
Dark Pinks
If you are wearing a dark pink gown or dress, your makeup should ideally be dark and dramatic. However, it is important to balance your dark pink gown makeup with a few lighter elements so that you don't look gaudy. To complement the dark tones of a dark pink dress, create a cut crease look. Begin your eye makeup for a pink dress by applying brown eyeshadow on your crease and follow it with a brightening concealer across the lid, cutting your crease in a clean semi-circle. Use a concealer shade or two lighter to get the desired look. Add a tint of colour to your cheeks by using a peach blush and enhance your lips with red lipstick.
Orange Pinks
There are two popular shades of orange-pink - coral and salmon - and both of them work well with any and every shade of makeup. This shade of pink allows you to play with contrasting colours and makes you stand out from the rest. Begin your eye makeup by applying vibrant green eyeshadow for a pink dress. To create a show-stopping look, follow this step by using navy-blue eyeliner on your lower lash line. Give your complexion a pop of colour by applying a rosy blush on the apples of your cheek. You can go for a bold fuchsia lipstick to add a quotient of glam to your look.
For your bright, light, dark or orange-pink gown makeup look ideas to stand out, you need flawless base makeup to support it. The first and most crucial step of your makeup look for a pink dress should be using a primer to create a smooth base. Next, apply a foundation to create an even complexion. (You can find a foundation shade that matches your skin tone and undertone by using the Maybelline Foundation Finder tool.) Then, use a concealer to highlight certain parts of your face like your eye contours and the top of your cheekbones. Lastly, set your face with powder and your base makeup is now ready.
If you're hesitant about the above-mentioned looks, especially picking lipstick or eyeshadow for a pink dress, don't worry, we've got your back. You can now finalise your face makeup, lip makeup or eye makeup for a pink dress with the Maybelline Virtual Try-On tool. This tool helps you experiment with various makeup products and shades virtually, from the comfort of your home, without you having to spend a penny. Now that you're confident, slay the pretty pink dress in style.