Level Up Your Makeup For A Black Dress With These Ideas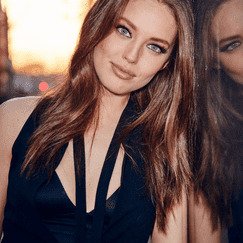 While picking a lovely black dress is not difficult, deciding on the ideal makeup looks for black dress is certainly a tricky task. If you too are stuck in such a dilemma, then don't worry, we're here to help you! Remember, to make your look turn into a 'lewk', both your outfit and makeup needs to be on point. And to help you look stunning in your favourite black dress, we've rounded up some of the all-time favourite makeup ideas. On this note, keep reading to find out how to pick the perfect makeup for a black dress and have all eyes on you.
Stunning Makeup Looks to Pick for Your Black Dress
You can choose any of these following makeup looks for black dress and rock a party.
• Smokey Eyes and Red Lips for Black Dress
Can't wait to rock your little black dress on a date night? Here's a quick tip for you - go for smokey eye makeup and pair it with red lips. This makeup look for black dress can surely make all the heads turn. Create a base by using a matte primer and keep the rest of your base makeup as usual. Add some drama to your makeup look by contouring your cheekbones and jawline. Next, apply a highlighter on your cheekbones (in an upward motion), the bridge and tip of your nose and on your cupid's bow to turn up the glam quotient. Now that the base makeup is done start the black dress eye makeup by applying mid-tone eyeshadow all over the eyelids. Next, glide a line along the lashline to deposit colour between the lashes and smoke it out before it sets. Next, apply a layer of dark eyeshadow on lids and lower lash line and smoke it out with fingers. Finish your black dress eye makeup by adding a touch of shimmer to your eye. As any black dress party makeup is incomplete without a stunning lip colour. Hence, apply red lipstick and appear in a full glam look.
• Winged Liner and Nude Lipstick for Black Dress
The classic winged eyeliner never fails to complement a black dress. For achieving a head-turning makeup look for black dress, start with a matte primer to create a smooth, even base and give your complexion a non-greasy finish. Follow this step with a full coverage foundation and some brightening concealer to get a flawless look. Want a kickass eye makeup for black outfit? Here's what you need to do - define your eyebrows using an eyebrow pencil, and then, apply a nude eyeshadow all over your eyelids. Now create a winged eyeliner look, and mascara. Finish the look with a nude lipstick and voila! You are now ready to rock a natural makeup for the black dress.
• Blue Eyes for Black Dress
Who says you can't pair a blue eyeshadow with black dress? Start your face makeup with a primer, then apply foundation and complete the base with concealer. Make your skin look fresh and healthy by using a blush. Next, give a dramatic effect to your eyes by applying either royal blue or electric blue eyeshadow. Add black eyeshadow at the outer corner and smudge it out. Pair your eyeshadow with a kajal to enhance your eyes and achieve thick lashes by using a mascara. For the lips, use a nude lipstick. However, if you're not in the mood for lipstick and want to keep it simple, you can go for a tinted lip balm and look the best from the rest. So, end your search for black dress eye makeup ideas and go for this alluring look.
• Pink Eyes For Black Dress
Have you thought of pairing pink eyeshadow with black dress? If not, then you must think of giving it a try. Black dress and pink eyes- this pair may sound unreal but it can evidently steal the show. Start with base makeup- primer, foundation, and concealer. Once you finish it, move to the black dress eye makeup. To create a pink eye makeup for black outfit, take a professional blending brush and three contrasting eye shadow- shimmery light pink eyeshadow, pink pigments (dark shades), and brown shimmers. Start by dabbing the pink pigments at the outer corner to get smokey eyes. Then, apply the shimmery eyeshadow to the eyelids and brown ones to inner corners. Highlight your focal points with a highlighter and complete this black dress eye makeup by adding a bit of gloss on your lips.
• Glittery Eyes for Black Dress
If you want to try and experiment with a glittery and shimmery makeup look for black dress, don't shy away! Create an even base with primer and foundation and apply concealer to cover skin imperfections. For your eye makeup, rely on mono hue, preferably shimmery gold or rose gold shade. Apply little colour on your eyelids and smear it with your fingertips to cover the area. Don't hesitate to add a sparkle of glittery eyeshadow powder. Next, apply two coats of mascara to get voluminous lashes. Complete your lip makeup by applying glossy lipstick. You can make the look bold by colouring your lips with orange or even red lipstick.
Apart from these ideas, you can always play around with less pigmented colours and get a natural makeup for black dress. Also, if you're not confident enough to try any of these top-notch ideas for eye makeup with black dress, head to the Maybelline Virtual Try-On tool. This advanced tool helps you virtually experiment with various face, eye and lip makeup products and shades from the comfort of your home. This helps to make the process a lot easier without you having to spend a penny from your pocket. Also, you can use the Maybelline Foundation Finder tool to find your foundation to get the perfect black dress makeup look. Now that you know the best makeup look for black dress, go slay that black dress with dazzling makeup on!