7 Amazing Raksha Bandhan Gifts for Sister To Bring A Smile On Her Face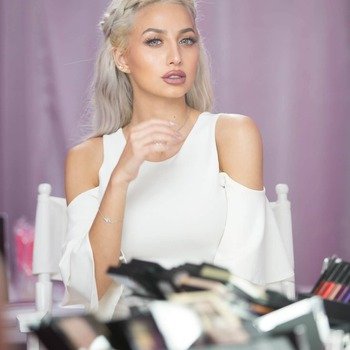 Gifting is a tough job, especially when it's for your sister. With Raksha Bandhan around the corner, we're sure you're also stressing about what to gift her that will bring a smile on her face. Well, we're here to help you make some thoughtful choices and show your sister how much she means to you. And if your sister is a makeup lover, you're in luck! So, get ready to pamper and shower her with love with our curated list of Raksha Bandhan gifts for your sister.
Face makeup gifts for sister
1. Blush
A must-have product in every makeup kit, blush is one of the best Raksha Bandhan gifts for sisters. While buying a Rakhi gift for your sister, you can invest in more than one blush palette so that she can experiment with different shades and mix and match colours to create a truly unique hue that flatters her features. What's more, this is a such a versatile product that she'll be able to use it in so many ways. Trust us, your sister knows what saves most women when they run out of an eyeshadow palette!
Our picks –
• Maybelline Fit Me Mono Blush
2. Highlighter
Whether she prefers a natural no-makeup makeup look or loves going full glam, a highlighter will add the perfect finishing touch to her face makeup and transform her makeup game. Opt for this Rakhi gift idea for your sister and watch her shine with an unparalleled luminous glow.
Our picks –
• Maybelline Facestudio Master Chrome Metallic Highlighter;
Eye makeup gifts for sister
3. Eyeshadow palette
Does your sister love to create endless makeup looks? Is her social media feed flooded with videos of glamorous eye makeup tutorials? Then here's a gift she would appreciate - an eyeshadow palette as bright and stunning as hers! Maybelline's wide range of eyeshadow palettes is one of the most thoughtful Raksha Bandhan gifts for sisters and will be her companion at every occasion. From a versatile mix of subtle and neutral shades to vibrant colours and shimmer, we've got it all.
Our picks –
• Maybelline Blushed Nudes Eyeshadow Palette
• Maybelline Nudes Eyeshadow Palette
• Maybelline New City Mini Eyeshadow Palette
4. Kajal and eyeliner
Help your sister add intense drama or smouldering sophistication to every eye makeup look by giving her a kajal and eyeliner as a gift for Raksha Bandhan.
Our picks –
• Maybelline Colossal Kajal 24 Hr
5. Mascara
Mascaras are a perfect addition to your sister's makeup kit regardless of the look she is planning to flaunt. From soft, fluttery lashes for her daily makeup look to long and voluminous lashes that look like falsies, the Maybelline mascaras will help your sister get the perfect lashes for any and every occasion.
Our picks –
• Maybelline New York Lash Lift Waterproof Mascara
• Maybelline Lash Sensational Sky-High Waterproof Mascara
Lip makeup gifts for sister
6. Lipstick
If your sister is tired of explaining to you that fuchsia, hot pink, and light purple are different colours, it's time to surprise her with Lip makeup gifts. This Raksha Bandhan, give her a little bit of everything that she needs to colour her pout. Be it soft and subtle or dramatic and bold, we have suggestions for you to pick from the different textures and formulas that will suit her every mood. The wide range of Maybelline lipsticks is suitable for all skin tones and lasts for a long time. You can also pair this Raksha Bandhan gift for your sister with a lip balm to maintain the health of her lips. So, what are you waiting for? Help your sister complete her makeup look and stun the scene with our wide variety of lip shades.
Our picks –
• Maybelline Color Sensational Creamy Matte Lipstick
• Maybelline Superstay Matte Ink Liquid Lipstick
• Maybelline Superstay Vinyl Ink Liquid Lipstick
7. Lip gloss
Is your sister a fan of fuller-looking lips with a shiny, bold finish? Here's a perfect Raksha Bandhan gift for your sister – the Maybelline lip gloss. Apart from providing a seamless finish, this lip gloss will help achieve long-lasting hydration, create a statement with ease, and make her lips look glamorous all day.
Our recommendation –
• Maybelline New York Lifter Gloss
Apart from these suggestions, you can also add a foundation and concealer to your Raksha Bandhan gift list if you know the exact shade that your sister uses (If you or your sister are unsure about which shade to pick, you can check out the Maybelline Foundation Finder tool!) If your sister is picky, help her create the perfect makeup kit by using the Maybelline Virtual Try-On tool and let her pick her very own Raksha Bandhan gift set!