From A Blending Brush To A Spoolie, Here Are 5 Eye Brushes You Must Have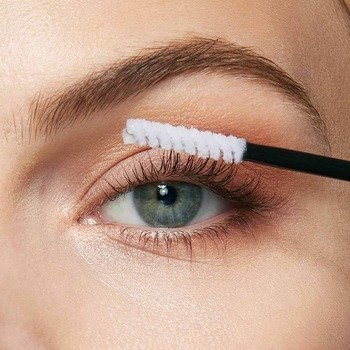 Mastering your eye makeup is not an easy feat and requires a lot of practice, patience, and of course, a few good brushes! Now, the brush holder in front of your dressing table might contain a lot of eye brushes but are those the right ones? Have you ever asked this question? Good eye makeup brushes are a complete game-changer. They can make or break your entire look. The market is filled with a wide variety of eye brushes and selecting the right ones can be overwhelming. But not anymore! We are here with a detailed guide to must-have eye brushes that will make it easy for you to build your kit.
5 Must-have eye brushes
Following is a list of 5 eye brushes that you must keep in your vanity:
1. Blending brush
A blending brush is a must-have eye brush for beginners. This is a great makeup brush for eyeshadow application as you can use it to blend the pigments well. Opt for a fluffy blending brush that is tapered or rounded. The shape will ensure your eye brush feels comfortable around the crease and blends your eyeshadow well. A fluffy blending brush will give you a seamless and professional blend. This is the perfect makeup brush for eyeshadows, regardless of whether you're creating an everyday nude look or a complicated cut crease! With blending brushes, you can easily play around with different colours and creating different eyeshadow looks.
2. Flat brush
Another eye makeup essential is a flat brush. This brush is the perfect makeup brush for eyeshadow as it helps to pick up pigments and place it on your eyelids effortlessly. It is the perfect brush to create a halo eyeshadow look or a smokey eye. If you prefer simple looks, you can use this brush to place and blend your eyeshadow. Flat brushes are densely packed with hair, which makes them a must-have eye brush for makeup lovers.
3. Spoolie
Well-shaped eyebrows can add so much definition to your face. That's why it is important to pay attention to them while doing your eye makeup. A spoolie is a rounded eye brush shaped similar to mascara that can be used to comb through, blend, and shape your brows. This is a great eye brush for beginners as it makes filling in your eyebrows super simple. Simply brush through your eyebrows with a spoolie and use your eyebrow pencil to fill in any gaps. When in a hurry you can also dip the spoolie brush in a tube of mascara and run it through your eyebrows. It'll darken your eyebrows slightly and give them shape. So, consider spoolie as one of your eye makeup essentials and add it to your vanity.
4. Angled brush
After perfecting your eyeshadow look, it is time to finish your eye makeup. An angled eye makeup brush is a super useful and multipurpose product. It is an ideal eye brush for highlighting the area under your brow bone. An angled brush is also one of the best brushes for eyeliners. You can use the slanted tip to create the perfect cat eyeliner. If you have sparse eyebrows, an angled eye makeup brush makes it easy to create thin hair-like strokes. What's more, not only the eyes, a clean angled brush can also be used to apply lipstick perfectly.
5. Pencil brush
An eye brush with a super-fine yet dense tip is known as a pencil or micro brush. This eye brush is perfect for applying highlighter to the inner corner of your eye. You can also use it to create colourful inner corner looks. A fine brush like this can also be used to smudge kajal in your lower lash line or sharpen your eye makeup!
Did you find the must-have makeup brushes for eyeshadow from this list? If yes, then start creating stunning eye makeup looks and let your eyes do the talking. Not sure what type of eye makeup to choose? Try the Maybelline Virtual Try On tool that helps you virtually try different products and pick the ones that look the best on you! You can also use this tool to try various lip makeup and face makeup products. Additionally, you can also use the Maybelline Foundation Finder tool to find the best foundation shade options to create a flawless base.