Celebrate Your Love For Makeup With These Special Days – International Lipstick Day, World Makeup Day & More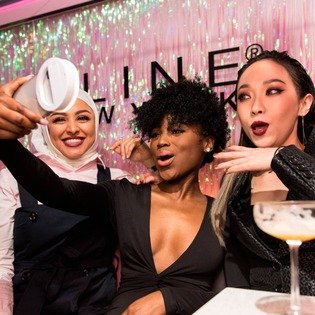 For a lot of makeup aficionados, their love for it knows no bounds. Applying and playing around with makeup products makes them happy and gives a rush like no other. Does this resonate with you? Are you a makeup fanatic and obsessed with teeny-tiny makeup products that give you the ultimate joy? To honour your love for makeup and other dazzlers like you, there are special days such as International Lipstick Day, International Makeup Day, and National Lash Day. So, let's learn a little about each of these days, and how you can celebrate them.
• International Makeup Day
Several people use makeup as a form of self-expression. It is undeniably a form of art that has been appreciated by more and more people over the past years. It helps one feel confident and more comfortable.
The celebration of International Makeup Day marks the journey of makeup and its acceptance today. Over the years, there have also been several advancements in the world of makeup. Earlier, women used crushed berries as blush. However, years of experimentation have given us the handy dandy blush we use today.
Before the existence of foundation, concealer and powder, ancient Romans applied chalk all over their skin. This helped them even out their skin tone and made them look dolled up. The first signs of makeup came from Egypt, where women painted their eyes by applying dark colour under the eyelid and blackening their eyelashes. This led to the discovery of modern-day kajal and mascara. The celebration of world makeup day is a great way to honour its journey. A great way to be a part of the celebration is by expressing your love for makeup freely.
How to Observe International Makeup Day?
So, on International Makeup Day, indulge in experimental makeup and make sure to feel good about yourself. You can also post makeup tutorials for beginners, discover latest makeup trends and try them and share it on social media.
• International Lipstick Day
Lipsticks surely uplift your mood and make you feel confident. From reds, nudes, pinks to dark maroons, there is a shade for every mood and occasion. Sometimes you can simply wear lipstick and step out without applying any other makeup product.
The popularity of lipsticks grew post-1915 when the first twist-up lipstick tube was invented by James Bruce Mason (in 1923). This invention made it easier to carry lipstick around, and it also made the application process a breeze. Several beauty brands celebrate International Lipstick Day with great joy and promote the importance of this product in the makeup world.
How to Observe International Lipstick Day?
To celebrate International Lipstick Day, you can revive your lip makeup collection, add a few brand-new lipsticks to it and experiment with vibrant shades to flaunt an envious pout. You can also finally try that lipstick that has been lying in your vanity but you never tried it because you thought it will not suit you. Even if you are sitting at home being lazy or working from your laptop all day, you can still apply your favourite lipstick and celebrate International Lipstick Day in your own way. To learn more about lipstick trends and techniques, head over to the lip makeup tutorials page.
• National Lash Day
Eyelashes are the real game changer in makeup as they help to open up your eyes and give a wide and brighter appearance. Eyelashes guard our eyes against dirt, dust, and foreign objects, and keep the moisture within the eyes intact.
A quick history about National Lash Day – It is celebrated annually on 19th February to promote the beauty and functionality of lashes. In this day, people acknowledge and appreciate the presence of both real and false lashes and how these lashes hold the eye makeup together and elevate the overall face makeup.
How to observe National Lash Day?
To celebrate National Lash Day, you can indulge in eye care, especially your eyelashes, and gain knowledge about various eyelash products before including them in your kit. You may flaunt your lashes, apply your favourite products, and style your eyelashes to make them more attractive.
Not sure about the outcome of your experimental makeup or lipstick shades? Head towards the Maybelline Virtual Try-On tool that lets you try different looks virtually and try out different products with no commitments.
You can even utilise the Maybelline Foundation Finder tool to find the right shade of foundation that matches with your skin tone. With this tool, you can shade-match yourself from the comfort of your home and find your perfect fit.
So, go ahead and mark the International Makeup Day, National Lash Day and more such beauty days on the calendar and celebrate them with great joy and confidence.