Makeup For Glasses - Tips To Wear Makeup With Glasses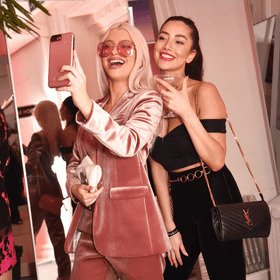 Though applying makeup might come naturally to some, it can be a difficult task for people who wear glasses. Although a pair of glasses can make the application and maintenance of makeup tough, it shouldn't stop you from wearing your favourite products. All you need to do is find the right makeup application technique! Here's a list of makeup tips for glasses to make your face shine from behind your frames and slay with ease.
Makeup tips for glasses
1. Shape your brows
You must make sure that the shape of your eyebrow matches the size and style of your specs. If you're wearing glasses with thinner frames, you can opt for the defined brow look by using the Maybelline New York's Define & Blend Brow Pencil. On the other hand, thin brows will best suit glasses with bigger and bolder frames, and you'll be surprised by what effect this simple step will have on your face.
2. Colour your eyelids
Most girls who wear specs think that pulling off eye shadow will not be easy. Fortunately, creating endless glasses' makeup looks is simple and we're here to tell you how to do it. You can opt for a natural, everyday makeup look by using the Maybelline Blushed Nudes Eyeshadow Palette that consists of blushed tones. On the other hand, to achieve deeper and more dramatic makeup with spectacles, you can try the Maybelline Nudes Eyeshadow Palette or the Maybelline City Mini Eyeshadow Palette. Just play around with eyeshadow as you normally would and don't let the glasses stop you from flaunting your creativity.
3. Define your eyes with a liner
A lot of people think that eye makeup for spectacle wearers must be kept simple, but bold and striking eye makeup can do wonders for your look. Line your upper lash line with coloured eyeliner to brighten your eyes and take your eye makeup up a notch. You can choose from subtle shades like brown or use a striking blue eyeliner shade to complement your features. All you need to do is create a bold and thick line so that your eyes can be seen through your glasses, and you will be amazed at how your eyeliner with glasses will look.
4. Make your eyes stand out with kajal
Using a kajal will define your eyes and enhance their beauty. The Maybelline Colossal Kajal can be your best friend as it can add dramatic volume to your eyes and intensify your glasses' makeup. The kajal will give you a long-lasting waterproof black colour and you can also smudge it on your lash line to give the illusion of thicker lashes.
5. Go heavy on the mascara
Eye makeup for spectacle wearers can make you afraid of including mascara on your list as you might be worried that the mascara might smudge and mess up, not only your look but your glasses as well. But, Maybelline Lash Sensational Sky High Waterproof Mascara is perfect as it gives you lifted, thick, and long lashes with no clumps, smears or flakes! While using different types of mascaras, make sure that you add more product to the base of your lashes for better results. Also, keep in mind to use volumizing or curling mascaras instead of lengthening mascara as extra-long lashes can scratch your glasses.
Other makeup tips for glasses
Here's how you can complete your makeup with spectacles –
• Use a mattifying primer on your face, especially on the bridge of your nose to prevent it from getting greasy and keep your glasses from slipping and sliding.
• There might be times when your glasses cast a shadow around the eyes and your face. To counter this darkness, lighten up certain parts of your face like your eye contours and the top of your cheekbones with a brightening concealer. You can use the Maybelline Foundation Finder tool to find the perfect concealer shade match and then use a shade or two lighter to create the brightening effect.
• The general rule of makeup is to highlight either your eyes or your lips – but avoid doing both. If you wear dramatic glasses and match them with an equally dramatic eye shadow, you can downplay your lip makeup by using a nude lipstick shade or settle with a tinted lip balm.
• The top of your cheekbones is often covered when wearing eyeglasses, and this takes away your chance to flaunt a blinding highlight. To make your face glow, mix in a few drops of highlighter with your foundation to give your complexion an all-over radiant and dewy appearance instead.
• Bring some colour to your glasses' makeupby adding powdered blush to the apples of your cheeks to make your makeup for glasses look naturally sun-kissed.
Finding the perfect glasses' makeup is also now easy with the Maybelline Virtual Try-On tool. You can experiment with different lip, eye, and face makeup products virtually, without spending a penny, from the comfort of your home. This will tie up your whole makeup with spectacles and get your look together, making you look and feel your best.