Ultimate Eyeliner Guide – How to Apply Eyeliner For Different Eye Shapes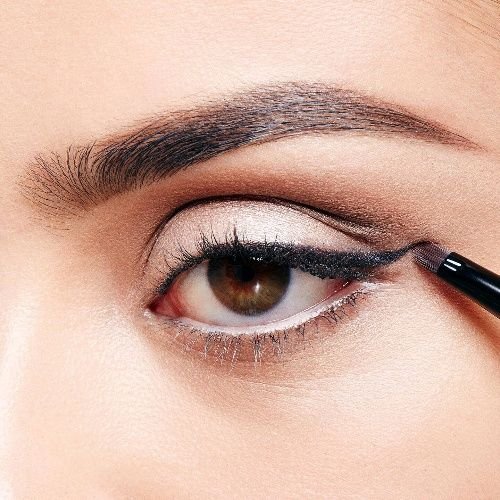 A simple swipe of eyeliner can make or break your entire makeup look. No matter how simple or glam your eye makeup is, it is incomplete without a sleek eyeliner. But do you know how to apply eyeliner that complements your eye shape? For example, applying eyeliner to big eyes will be very different from applying eyeliner to small eyes or almond-shaped eyes. To help you understand better, here is a quick eyeliner guide that will show you how to apply eyeliner for different eye shapes.
Eyeliner for different eye shapes
• Eyeliner for big eyes
Big eyes, like the name suggests, are bigger in proportion as compared to the other facial features like your lips and nose. Since your eyes are already a prominent feature on your face, your eyeliner should highlight your eyes without making them look too bold. To accentuate your eyes, ditch the dramatic black eyeliner looks and opt for brown eyeliner instead. You should also avoid using white and peach eyeliners on your waterline as these will make your eyes look even bigger. Apply the Maybelline Tattoo Studio Gel Eyeliner Pencil in the shade Bold Brown on your top lash line and bottom water line and blend the two using an angled brush to create a softer, blown-out effect. Outlining both, the top and bottom lash lines, makes your eyes appear smaller. If you have doll-like round and big eyes, create a small wing on the outer corner or try the popular foxy eyeliner trend to elongate your eyes. This is how to apply eyeliner for big eyes to get the foxy eye look –
Step 1: Use a brown eyeshadow in the crease and elongate it upwards and outwards towards your temples.
Step 2: Apply a beige or off-white coloured eyeshadow all over the eyelid and sweep it outwards, following the shape of the brown crease shade.
Step 3: With the Maybelline Tattoo Studio Gel Eyeliner Pencil in the shade bold brown, create a thin flick at the outer corner of your eyes.
Step 4: Create a small wing on the outer corner and for an extra-elongated look, create a small V shape near your tear ducts as well, joining the upper and lower lash line.
Step 5: Use a liquid eyeliner and go over the outer wing to add more drama to the look and you are ready to rock the foxy eyeliner look!
Step 6: To level up this trendy look, finish your eye makeup by coating your lashes with mascara and focusing the product mainly on the outer half of your lashes.
If you have big, round eyes you can also experiment with a lot of unique eyeliner styles like the double wing or the fishtail eyeliner if they want to go the extra mile with their eye makeup.
• Eyeliner for small eyes
On the other end of the spectrum of "eye shapes" are small eyes, which – you guessed it – are eyes that are smaller than the other features on your face. Small eyes are often narrow and elongated. The goal when applying eyeliner for small eyes is to make them appear larger and rounder. To make your eyes look bigger, try using white, peach, or beige eyeliner on your waterline. Steer clear from black eyeliners on your bottom lash line as they will make your eyes appear smaller and closed off. To create the illusion of rounder eyes, apply a thicker line of eyeliner at the centre of your eyelid and taper it towards the inner and outer corners.
Using metallic or shimmery eyeliners on the top lash line also helps to reflect the light and makes your eyes look bigger and brighter. You can use a gold or silver eyeliner to make your eyes look bigger. Apply it on your lash line to create a metallic smokey eye look to enhance the shape of your eyes.
• Eyeliner for hooded eyes
Hooded eyes are those where a part of the eyelid folds and hangs over the natural crease of the eyes, making it difficult to see the crease when your eyes are open. When applying eyeliner for hooded eyes, you should try creating thick and bold lines very close to the lash line. People with hooded eyes can also tight-line the upper lash line with a generous coat of eyeliner to ensure that the eyeliner is visible when you open your eyes. Since a part of your eyelids is hidden away, eyeliners for hooded eyes tend to smudge or fade very easily so we recommend using a waterproof and smudge-proof eyeliner that will stay in place. Gel eyeliners are great for hooded eyes as they are not only smudge-free and long-lasting but also great for creating bold and dramatic lines. The oil-free formula of the Eyestudio Lasting Drama Gel Eyeliner by Maybelline sets instantly and delivers intense colour that lasts up to 24 hours, making it one of the best eyeliners for hooded eyes.
• Eyeliner for almond eyes
When looking straight ahead, if the top and bottom edges of your irises are slightly covered by your eyelids, you have almond-shaped eyes. Often confused with round eyes, almond eyes tend to be narrower towards the inner corner. If you have almond-shaped eyes, you are in luck since just about every eyeliner style will flatter them! Here is how you can apply eyeliner for almond eyes to complement their shape and enhance their beauty –
Step 1: Using a pigmented and intense liquid liner like the Colossal Bold Liner by Maybelline and follow along your lash line in a very thin line.
Step 2: Start along the inner corner and gradually increase the thickness as you move towards the outer corner.
Step 3: Once you reach the outer edge, create a tiny upward flick for a subtle look. You can also intensify the eyeliner by creating a bold wing at the end.
Even though most almond eyes are turned upwards, some almond eyes also have a downward tilt at the outer corner. This makes your upper eyelid appear longer and gives you a brooding, intense look. When applying eyeliner for downturned eyes, your aim is to give your eyes a lift and make them appear open and bright. Highlight the inner corner of your eyes with a shimmery pencil or a highlighter. Create an upwards flick along your top lash line to fake a lifted eye shape and keep the lower lash line bare. Use an intense black liner like the Maybelline Line Tattoo High Impact Liner that will last longer and give your eyes a lifted appearance all day.
Now that you know how to apply eyeliner for different eye shapes, go pick up your favourite Maybelline eyeliner and see yourself in Maybelline! Not sure which eyeliner will work best for you? You can use the Maybelline Virtual Try-On tool to test out the different types of eyeliners in real-time with zero commitment. Use this tool to play around with different eye makeup, face makeup and lip makeup products to create an entire makeup look that suits your eye shape. Once your eye makeup is sorted, complete your face makeup and you're ready to turn heads wherever you go. We've also simplified the process of finding the ideal foundation or concealer shade for you – simply head to the Maybelline Foundation Finder tool and try the shade that flatters your skin tone and undertone.