7 Eyebrow Shapes For Different Face Types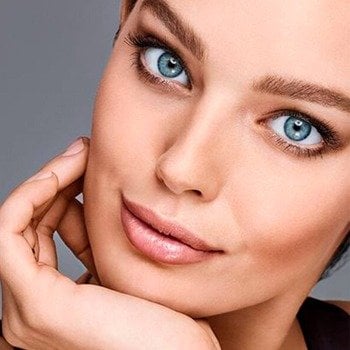 The shape of your eyebrows can make or break the entire look and people who've experienced 'eyebrow fails' in the past will understand the struggle. Considering that it's quite important to groom them perfectly to flaunt the look of your dreams, it's essential to put some emphasis on the shape of your brows and how they will look on you. Not all face shapes are the same and that's why you need to know what will suit you the best. Confused? Not sure where to start? We're here to help you understand eyebrow shapes for different face types and how to pick the right eyebrow shape. So, what are you waiting for? Read ahead to frame and highlight the beautiful features you have with ease.
Eyebrow shapes for different face types
Check out the following list of eyebrow shapes for different face types to select the right one for you.
1. Eyebrow shape for round face
Looking for the perfect eyebrow shape for round face? Try this technique - lift the hair strands upwards rather than outwards. To get an eyebrow shape for round face, use an eyebrow pencil and draw a sharp arch and make it slightly darker here than the rest of your eyebrows. Take the arch as high as possible, without making it look unnatural. Groom your hair well so that they point upwards and avoid rounded brow shapes. You can go for either soft-angle or hard-angle eyebrow shapes for round chubby face as both of these suit this face shape.
2. Eyebrow shape for square face
While creating an eyebrow shape for square face, focus on achieving soft and curved eyebrows to make your face look longer. While doing so, you must create a dip in the centre and a subtle rise above the eyebrow bone. The arches should be drawn in such a way that grabs the attention from the jaw to the eyes and soften the jaw.
3. Eyebrow shape for heart-shaped face
Do you know the secret of getting the perfect eyebrows for heart-shaped face? Bring a balance to your chin as the focus is already on your eyes and forehead. How, you ask? Go for a soft, straight, rounded and low arch to balance your features. Flaunt full, fluffy eyebrows as your forehead is the widest part of your face and can handle the attention. And voila! You have a flawless set of eyebrows for heart-shaped face.
4. Eyebrows for an oval-shaped face
You are blessed if you have an oval face as there are no rules that apply while doing your eyebrows in this situation. You can easily experiment with different eyebrow shapes. All you need to do is use your brow pencil to create a natural, soft, long eyebrow with a lower arch at the tail. However, an oval-shaped face can pull off any eyebrow shape so feel free to pick your favourite eyebrow shape as it probably won't go wrong.
5. Eyebrow shape for diamond face
Have a diamond-shaped face? Go for a straight brow without a peak to achieve the desired effect and widen the appearance of your forehead. Keep the arch rounded to make your face appear shorter. A pro tip to clean up around the brow and sharpen your face is to use a concealer. Make sure that you choose the right fit me concealer shade and go for a shade or two lighter to create a brightening effect.
6. Eyebrow shape for rectangle face
Skimming through different eyebrow shapes to pick the right one for your rectangle face? You need non-structured eyebrow shapes as a rectangle face is long, with a defined jawline. Try a shape with a slight curve at the end to flatter your features. Avoid peaked eyebrows as that will make your face look even longer.
7. Eyebrow shape for triangle-shaped face
You have a triangle face if your jawline is wider than your forehead. In this situation, you must add volume and fullness to your eyebrows as that will help soften the features. So, keep the arches curved and low and do not narrow the tail of the brows.
Eyebrow shape for square face
Those with square face have strong and defined features – straight side faces and sharp jawline. To compliment this facial feature, you can pick angular eyebrow shape. You can pick a soft or hard-angled eyebrow shape for square face. You can also look best with curved eyebrow shape. Start with a slight curved line and round it at the angle of the brow.
Now that you're aware of the eyebrow shapes for different face types, it's time to flaunt your brows confidently. Need help to finalise the rest of your makeup? Use the Maybelline Virtual-Try On tool that helps you experiment with different face makeup, eye makeup, and lip makeup products virtually, without any commitments. You can also find your ideal foundation shade on the Maybelline Foundation Finder tool. So, accentuate your feature by picking up the right the eyebrow shapes for different face types and look the best from the rest.