Step by Step Party Makeup Look for Beginners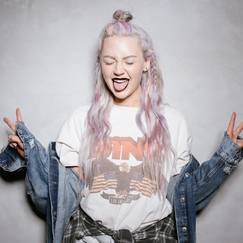 A Step By Step Party Makeup Look That Even Absolute Beginners Can Ace
Whether it's ladies' night at your favourite club or your best friend's sangeet, dressing up in a glamorous outfit and putting on some fun party makeup can instantly get you in the mood to dance the night away. And no, you don't need to run to your nearest salon for a makeover. With this simple party makeup routine, you'll be ready to rock the party in no time.
1. Even simple party makeup looks involve a lot of shimmer and glitter on the eyelids, which is why we recommend starting with the eye makeup This makes it easier to dust away any eyeshadow fallouts without messing up your base makeup.
2. Start by filling in your eyebrows and defining your arches with an eyebrow pencil.
3. Next, prime and set your eyelids and then use a brown shade from The 24K Nudes Eyeshadow Palette in the crease. Intensify the outer half of the crease with some dark brown. Using your finger, pat in a bronze or gold shimmery eyeshadow shade across your eyelid and for some drama, add a touch of black eyeshadow to the outer corner of your eyelids.
4. Define your upper lash line with a bold liquid eyeliner and draw a dramatic winged eyeliner to take your party makeup look to the next level. You can also add some black eyeshadow across your upper lash line for a smudged-out eyeliner effect. Using a flat angled brush, smoke out the dark brown eyeshadow on your lower lash line and then use a dark black kajal on your upper and lower lash line for extra oomph.
5. Finish off the party eye makeup with a coat (or three!) of your favourite volumizing mascara.
6. A flawless face makeup is key to nailing any party makeup Use a primer to fill and blur pores, smoothen skin texture, and improve the wear of your base makeup products. Opt for a long-wearing full coverage foundation so you don't have to worry about it fading throughout the night and then conceal your dark circles and cover up any blemishes and dark spots with a concealer.
7. Use a powder or cream contour product to carve out your cheekbones and define the perimeter of your face and set your products in place using a setting powder and your base makeup is all done. You are probably going to use a lot of flash photography at your event, so make sure your base makeup products match your skin tone perfectly. To find your perfect shade match, answer a few questions on the Maybelline Foundation Finder tool and you will never end up with a base makeup product that is too light or too dark for your complexion.
8. Now it is time to bring some much-needed colour and glow to your face with a blush and highlighter. Have fun with your favourite blush shade and apply a generous amount of colour on the apples of your cheek. Swipe your brush across the bridge of your nose to give your complexion a naturally flushed look. Party makeup looks are the perfect opportunity to glow to the Gods, so go crazy, but not too crazy, with a dazzling gold highlighter. Add shimmer all high points of your face – the bridge of your nose, under the arch of your brows, your temples, and the Cupid's bow. You can also a put a tiny amount of highlight in the inner corner of your eyes for the ultimate glow.
9. It's finally time for the most fun part of any makeup – your lipstick! Line your lips with a lip liner before you begin your lip makeup to make sure the lipstick does not fade or feather outside your natural lip line.
10. There will be a lot of talking, eating, and drinking at your party, so you need a waterproof lipstick that is also smudge-proof and transfer-proof. Even when doing a light makeup for your party, keep your lips as the focal point of your face to make a statement without going over the top. For those who prefer a simple party makeup look that does not use a lot of bold colours, the Superstay Matte Ink Liquid Lipstick Pinks Edition in the shade Ringleader has just the right amount of pizzaz that will flatter all skin tones and undertones. If you can't make your mind between a subtle nude lipstick or a vampy red, use the Maybelline Virtual Try On tool to test out different lipstick shades and find one that makes you feel your best.
Once your party makeup is complete, don't forget to set everything in place and lock in your makeup with a few spritzes of a setting spray. And voila! You are ready to party all night…