9 Genius Mascara Tips And Tricks That You Need To Know!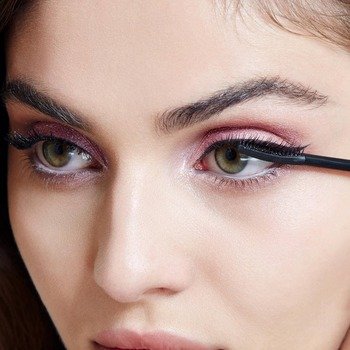 Swipe, wiggle, repeat- that's the golden rule of applying mascara, right? But what if we told you there are different ways or techniques of applying mascara (and secrets of keeping the product in a good state) that you are probably not aware of? Well, it's never too late to learn and no matter whether you are a beginner or a makeup pro, you can try these tried and tested mascara tips to flaunt long and voluminous lashes that look like falsies.
Simple yet effective 9 mascara tips
These 9 mascara tips and tricks will help you achieve gorgeous, fluttery lashes that will make heads turn wherever you go. So, check out the list of mascara tricks and get dramatic lashes in just a few swipes.
1. Say no to extra pushes
You probably already know this but pumping your mascara wand in and out of the tube pushes extra air into the tube, causing your mascara to dry out quicker than usual. Gently twist the wand inside the tube to pick up the products and pull it out in one clean motion instead.
2. Lens solution to the rescue
Revive your old, dried-up mascara by adding a few drops of your lens solution in the tube to thin out the product. But remember, mascaras have a short shelf life of about 3 months once opened, so do not use this mascara tip to bring back your mascara to life once it is past its expiration date.
3. Warm up your old mascara
Another mascara tip for warming up your dried-up mascara is to dunk the mascara tube (make sure it is tightly closed!) in a glass of hot water before you use it. The heat from the water will melt the mascara, making it more fluid and easier for you to use.
4. Avoiding applying in a zig-zag motion
A simple mascara trick to avoid clumping is to wiggle the mascara wand in zigzag motion from root to tip to coat your lashes.
5. Lengthening mascara for short lashes
Do you have dense eyelashes that are short and do not hold their curl? Or do you need to add some volume to your long lashes? Find out the best-in-class lengthening mascara. We recommend you to use the Maybelline Lash Lift Waterproof Mascara. Just one or two coats of this mascara are enough to add volume, extend lashes, and lock your lash look all day.
6. Clean, clean, clean!
When was the last time you cleaned your face makeup and eye makeup brushes? And now think about the last time you cleaned your mascara wand! The bristles of a mascara wand collect a lot of products after every use, which not only results in a messy and clumpy application but can also harbour bacteria that can lead to eye infections. Clean your mascara wand at least once a week to remove any product buildup. You can also wipe your mascara wand with a makeup-removing wipe after every use if you want to be really clean and hygienic! Cover your mascara tube with tape and wait for the mascara wand to be completely dry before putting it back in the tube.
7. Horizontal or vertical application
Wondering how to apply mascara perfectly? Here is a mascara application tip that you have probably not heard of before - hold the mascara brush vertically and apply the product to your lashes with the wand's tip to get longer, more natural-looking lashes. If you hold the mascara wand horizontally, you will get thicker lashes. Isn't it amazing!
8. Add lash primer to your vanity
If you want to take your mascara game to the next level, a simple mascara trick is to coat your eyelashes with a lash primer before going in with mascara. Using a lash primer will amp up your mascara's intensity and also make the mascara last longer. You can use baby powder or face powder and still achieve the same alluring and dramatic lash look.
9. Tackle a catastrophic failure with care
Let's be real, even professional makeup artists sometimes mess up and make mistakes when applying mascara. For instance, getting mascara on your eyelids is more common than you think. To clean the stray mascara marks without ruining your eye makeup, you can do one of the two things – wait for the mascara mark to dry and then gently scrape it off using your fingernails. Alternatively, you can dip a cotton swab in a makeup remover and hold it on the spot till the mascara is no longer visible. Wait for the liquid to dry and then touch up your eyeshadow if needed.
Pair these 9 mascara tips and tricks with our step-by-step mascara application guide and learn how to apply mascara perfectly! You can utilize the Maybelline Virtual Try-On tool to pick the type of mascara that suits your needs the best, i.e. lengthening, voluminous, or curling mascara. You can also use this tool to try out our other eye makeup, face makeup, and lip makeup products without spending a penny. If you feel stuck while finding face makeup products like foundation, you can trust Maybelline Foundation Finder tool and get your shade match without any hassle.