COLOR SENSATIONAL CREAMY MATTE LIPSTICK
COLOR SENSATIONAL CREAMY MATTE LIPSTICK
Rs.299&nbsp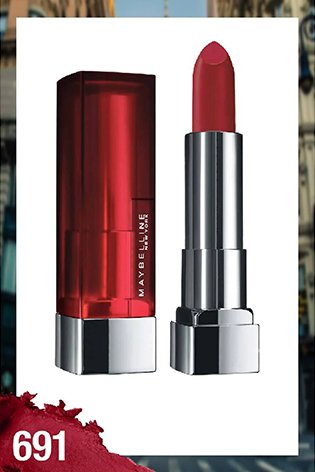 COLOR SENSATIONAL CREAMY MATTE LIPSTICK
Rs.299&nbsp
By clicking on this button, you are about enter an augmented reality visual experience.
Color Sensational Creamy Matte Lipstick Makeup delivers crisp, vibrant lip color and smooth, supple lips. Sensational color takes on a new feeling with this creamy lipstick formula available in multiple ultra-flattering shades.

Style Guide
The Maybelline Color Sensational Creamy Matte Lipsticks have different colour to play up your pout – from soft, everyday shades like Touch of Spice, Mysterious Mocha, and Ravishing Rose to dark matte lipsticks like Burgundy Blush and Divine Wine, there is a colour to complement your every mood. If you are looking for a subtle pink, nude, or peach lipstick to wear to college or work, shades like Barely Nude, Peach Personality, and Daringly Nude are perfect for day time wear. Spice up your dinner date or turn heads on your night out in town with a dark red, maroon, or pink lipstick like Pretty Please and Mesmerizing Magenta. Not sure about these new pink and purple colours? Stick to the timeless classic bright, cherry reds like Siren in Scarlet and Red Liberation and slay all your makeup looks.
This rich creamy lipstick formula leaves behind a burst of bold color and the creamiest texture giving your lips a sensuous feel. These hydrating lip colors glide smoothly while keeping your lips moisturized all day long. This lipstick is now available in a wide range of nude, pink, red, and plum shades that are rich, warm, and ultra-flattering.
STEP 1: Apply lipstick in the center of your upper lip and follow the contours of your mouth.
STEP 2: Glide the lipstick across the entire bottom lip