1960s Makeup Looks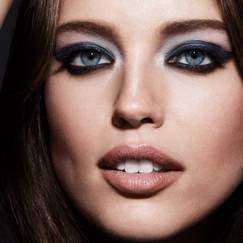 The Swinging Sixties were famous for more than just its music, the beauty world went through its own little transformation too. Unlike the dainty and feminine makeup from the 50s, 60s makeup was all about colour and drama! The decade started a beauty movement and created its own identity, and we are so glad to circle back to the big hair, dramatic eyeliner styles, and long, fluttery lashes. Let's take a look at 8 of the best 1960s makeup looks that we just can't get enough of.
1. Matte Skin
Face makeup in the 60s was minimal – no highlighter, no bronzer, and absolutely no contour! Women from the 60s would typically apply matte foundations and brightening concealers and set their makeup with a setting powder to make the base even more matte. Use the Maybelline Foundation Finder tool to find your exact shade matches so you can start your 60s makeup with a flawless base. Prep your face with a matte primer before you begin to make your base makeup last-long and stay matte all day.
2. Subtle Blush
Another makeup trend that did not really catch on in the 60s was the blush. Just like the rest of the face makeup, they kept the blush minimal. The 60s women preferred soft pink or peach blushes that added a subtle, natural-looking flush to the cheeks.
3. Winged Eyeliner
Eye makeup was big in the 60s and we cannot talk about 60s makeup without mentioning winged eyeliner. A thick winged eyeliner was one of the most popular crazes back in the day and you can use a liquid eyeliner to create this classic 1960 makeup look and give your eyes a dreamy shape.
4. Doe Eyes
The sixties siren Twiggy popularized the doe-eyed gaze and long eyelashes trend, and there was no turning back. If you are not a fan of false lashes, all you need is a few coats of a waterproof, lengthening mascara and you should be able to recreate the trademark long eyelashes look from the 60s. And don't forget the bottom lashes, 1960s makeup is incomplete without them! To make your eyes appear bigger and more doll-like, line your lower lash line with a white, peach, or silver eyeliner instead of black.
5. Cut Crease Eyeshadow
When it came to 60s makeup, people loved playing with their eye makeup - the brighter the better. Dramatic cut crease looks with bright eyeshadow shades were omnipresent and a 1960s makeup staple. Cut crease is when the eyelid is carved out with concealer to create a stark difference between the eyelid and the crease. Women in the 60s loved colour, so if you want to bring a touch of 60s to your eye makeup, experiment with vibrant hues like blue, purple, pink, or green eyeshadow shades. Never tried this look before? Here is a quick cut crease tutorial so you can rock this look with ease!
6. Graphic Eyeliner
Unique graphic eyeliner styles were all the rage in this decade. For this 1960s eyeliner look, you can experiment with different eyeliner styles like double flicks, fishtail wings, and much more. From simple everyday looks to crazy, fun designs, there is a graphic eyeliner look for your every mood.
7. Sharp Eyebrows
Natural-looking and well-groomed eyebrows were a 60s makeup classic. Neither overly plucked nor dramatically bushy, eyebrows in the 60s were neat and sculpted and had high arches that enhanced the facial features. To take your eyebrow game to the next level, use an eyebrow pencil to create short, hair-like strokes and fill in any sparse spots in your brows. Then use a concealer to outline the brows and give them a crisp and neat appearance.
8. Nude Lips
You have probably already figured out that the eyes were the focal point of all 1960 makeup looks, which is why lip makeup took a backseat. To keep all the attention on the eyes, women painted their lips in light lipstick shades that did not stand out. Some women even went so far as to coating their lips with powder foundation. A quick swipe of a tinted lip balm should add just enough colour on your lips to give your eyes centre stage. To find the right lipstick shade to complete your 1960s makeup look, use the Maybelline Virtual Try On tool, test out different Maybelline lip makeup products virtually, and pick one that closely matches the natural colour of your lips or blends in with your skin tone.
Want some more #throwbacks? Here is how you can bring back the nineties with these easy 90s makeup trends!