THE COLOSSAL WASHABLE MASCARA
THE COLOSSAL WASHABLE MASCARA
Rs.399&nbsp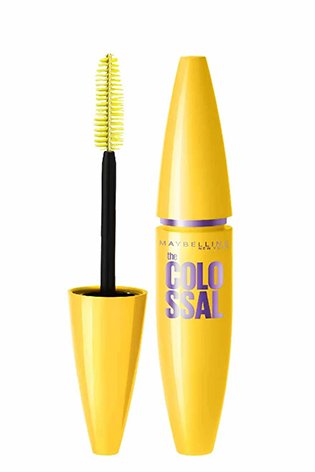 THE COLOSSAL WASHABLE MASCARA
Rs.399&nbsp
By clicking on this button, you are about enter an augmented reality visual experience.
The Colossal® Washable Mascara instantly plumps lashes for dramatic volume, without clumps.
Colossal lashes in just one go! The volume-plumping formula contains collagen and the Mega Brush instantly achieves 2X the volume, all without any clumps. Ophthalmologist tested. Suitable for contact lens wearers.
Step 1. Sweep the Mega Brush from the root to tip of lashes to create instant volume.

Step 2. Do not let mascara dry in between coats.
FAQ
The Maybelline Colossal Washable Mascara is a mascara that provides stunning length, volume, and definition. The washable formula makes the removal easy and breezy without any hassle.
The Maybelline Colossal Washable Mascara is good for those who are looking forward to easy removal while still achieving impactful results. It instantly plumps lashes for dramatic volume, creating a striking, wide-eyed look.
The Colossal Washable Mascara lasts for a long time until washed. It captures even the tiniest lashes, depositing rich black pigment for dramatic depth and is made with a washable formula that is easy to remove.
Yes, the Maybelline Colossal Washable Mascara is ophthalmologically tested and suitable for everyone, including contact lens wearers. This Maybelline mascara helps to experience the power of bold, beautiful lashes that leave a lasting impression.
Yes, the Colossal Washable Mascara is made with an easy, washable formula that makes removal a breeze, making this mascara suitable for daily use. It reaches even the smallest of lashes, delivers 2X the volume and ensures full lash coverage with ease.
The Maybelline Colossal Mascara Washable is priced at a reasonable rate of Rs.399 only. This mascara provides clump-free application and allows your eyes to do the talking.
THE COLOSSAL EFFECT!