5 Independence Day Makeup Ideas That You Can Easily Create At Home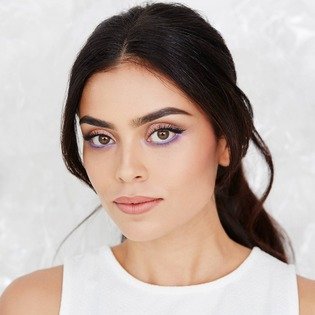 India has been an independent country for years now, and while patriotism runs in our hearts all year long, why not display it on your face as well on the momentous Independence Day? Painting your face to resemble the tricolour may be the most obvious way of flaunting your patriotic streak, but there is a lot more you can do using just the products in your makeup bag! Here are five simple yet classy Independence Day makeup ideas that you can create at home and pay tribute to the country in your own unique way.
Independence Day Makeup Idea 1
Start this look by filling in your brows with the slim-angled tip eyebrow pencil that will help you achieve defined brows. For the tricolour-inspired Independence Day eye makeup, first apply an orange eyeshadow on your upper eyelid and follow this step with a green eyeshadow and smudge it on the lower lash line. This will help display the colours of the flag. Next, use orange-beige lipstick to complete your 15th August makeup look.
Independence Day Makeup Idea 2
Add drama to your Independence Day eye makeup by using the orange eyeshadow on the crease of your eyes and smudge it well. Next, create a cut crease with concealer and set it using white eyeshadow. Follow this step by creating a winged eyeliner look using green eyeshadow. Use a kajal to define your eyes, and complete this easy yet glam 15th August makeup look like a pro. To give this look a perfect finish, pair it with orange lipstick.
Independence Day Makeup Idea 3
For this look, apply green eyeshadow all over your eyelids and use a silver eyeliner pencil on the waterline. Finish your Independence Day eye makeup by using mascara to achieve lifted, thick, and long lashes. Opt for a coral lipstick shade to complete this stunning Independence Day makeup look.
Independence Day Makeup Idea 4
Ready to go the extra mile? This alluring 15th August makeup look idea will add a touch of mismatched glam to your look. Shape your brows and use orange eyeshadow on the eyelid and waterline of the right eye. Next, apply green eyeshadow on the eyelid and waterline of the left eye. Use blue eyeliner to line your upper lash line and brighten your eyes further. Do not forget, bold and striking Independence Day eye makeup can do wonders to your overall look. Complement your Independence Day makeup look with matte pink lipstick that will stay put throughout your Independence Day celebrations.
Independence Day Makeup Idea 5
You might have often painted your face with tricolour while in school, but If you're not sure about using paint on your face, we have the perfect Independence day makeup idea for you. Start with a quick no-makeup makeup look and enhance the natural colour of your lips by applying a tinted lip balm. Next, dampen your fingers with a setting spray and then dip them in orange, white, and green eyeshadows. Swipe your fingers horizontally across your cheeks to add a touch of patriotism to your makeup. The setting spray not only keeps these colours on your cheeks for longer but also makes them appear more vibrant. You can go a step further by pairing your look with a navy blue bindi, painting your nails with tricolour, and choosing a classic all-white outfit!
For every Independence Day makeup idea to stand out or look perfect, you need a base makeup to support it. The first step of your base makeup should be using a primer to create a smooth base that keeps your makeup in place all day. Then, apply foundation to create an even complexion and highlight certain parts of your face like your eye contours and the top of your cheekbones with a concealer. You can use the Maybelline Foundation Finder tool to find the perfect concealer shade match and use a shade or two lighter to create the brightening effect. If you wish to add some natural colour to your face, apply some powdered blush to the apples of your cheeks.
Feeling overwhelmed? Don't worry as we've got your back. Finalising your 15th August makeup look is now with ease by using the Maybelline Virtual Try-On tool. This tool helps you to experiment with different face makeup, eye makeup, and lip makeup products virtually, without even having to spend a penny. Once confident, try one of the above-mentioned Independence Day makeup ideas and have all eyes on you this August 15!