A 6-Step Simple Guide To Use Eyeshadow As Eyeliner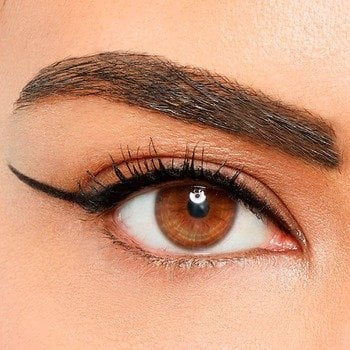 There are days when we wish for more vibrant variations in eyeliner colours than just the basic brown or black shades? And looks like the prayers were heard...by us. Because we're here with this guide on how to use your eyeshadow as eyeliner. No matter whether you ran out of an eyeliner, have old eyeshadow palettes stocked up, or have a favourite shade in mind that you've been dying to try, we are here to help you try out all the looks. Here are some easy yet effective ways you can use an eyeshadow as an eyeliner if you're not in the mood of buying a bunch of coloured liners. Moreover, using eyeshadow as eyeliner is advantageous for various reasons, like creating a softer look or giving you more options for vibrant and striking eye makeup looks. Wondering how to use eyeshadow as eyeliner? We're here to help you achieve your dream eyeliner looks with ease.
How to use eyeshadow as eyeliner?
Step 1: Prime well
Gently dab some primer onto your skin and cover your eye contour well. This will help you prep your skin and create a smooth canvas for the rest of your makeup. It will also help your makeup last throughout the day without smudging. You can choose from options such as dewy primer or matte primer, depending on your skin type.
• Our recommendation – Maybelline Fit Me Primer
The next step in the 'eyeshadow liner' routine is to use a small amount of concealer or foundation under your eyes to even skin tone and cover dark circles and spots. Using concealer helps to banish the blemishes and highlight the eye area while allowing the eyeshadow to stand out. Make sure that you choose the right concealer shade and apply a shade or two lighter to create a brightening effect. You can now find your perfect concealer shade match on the Maybelline Foundation Finder tool in just a few clicks.
• Our recommendation – Maybelline Fit Me Concealer
Step 3: Take an angled brush
Ditch the regular eye makeup brush and go for an angled brush as it will be much easier and more effective to use. An angled brush is a thin set of bristles positioned on a slant that allow you to apply makeup in precise lines, making it easier to create an eyeshadow liner. Make sure that the brush you're using is clean so that there is no colour transfer from the last time you used it. And since the brush will go very close to your eyes, we recommend using an unused brush to apply eyeshadow liner to prevent bacteria from getting into your eyes. Before you begin the application, dip the tip of the brush in water. Don't make it wet but only slightly damp. Soaking the brush in water will cause the eyeshadow to run and make it difficult to apply.
Step 4: Select your favourite shade
You have innumerable options when it comes to eyeshadow shades. If you want a natural looking eyeliner, then select neutral eyeshadow shades such as brown, black, grey, or white. And if you're open to bright, funky colours, use shades such as orange, green, blue, pink or any other colour of your choice. You can also use shimmery eyeshadow shades such as golden, bronze or silver to draw instant attention to your eyes.
• Our recommendations – Maybelline New City Mini Eyeshadow Palette, Maybelline Blushed Nudes Eyeshadow Palette, Maybelline City Mini Eyeshadow Palette – Rooftop Bronze, Maybelline Nudes Eyeshadow Palette
Step 5: Draw the eyeshadow liner
It's time to create the eyeshadow liner. Before applying the eyeshadow as eyeliner, position the upper tip of the angled brush along your lash line. Start from the inner corner of your eyes and swipe the brush gently along the lash line up to the outside corner. Repeat this process a few times until you reach the desired colour and consistency. For an accurate line, try to keep the brush as close to your lash line as possible and press the tip of the brush on your eyelids so that you draw the eyeshadow in place.
Step 6: Allow to dry and lock with spray
Give the eyeshadow a few minutes to dry and set before you blink. This will prevent the colour from getting smudged into your crease. Lastly, use the setting spray to lock your makeup and create a dewy, vibrant finish.
• Our recommendation – Maybelline Fit Me Matte + Poreless Setting Spray
Follow this simple guide on how to use eyeshadow as eyeliner and unlock endless possibilities and shades to experiment with. Need help to finalise the rest of your makeup? Try the Maybelline Virtual-Try On tool that helps you experiment with different face makeup, eye makeup and lip makeup products virtually, from the comfort of your home, without having to spend a penny.