5 Genius Lipstick Uses That You Probably Didn't Know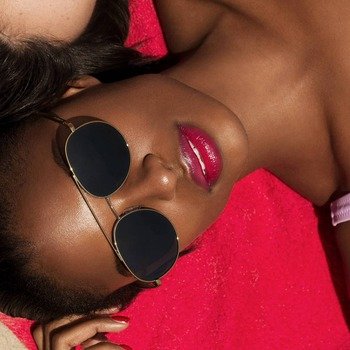 Whether you are a beginner or a self-professed makeup guru, a lipstick is one product you will definitely have in your makeup bag. Lipstick is one of the most used (and loved) makeup products by people across the globe. With so many different lipstick colours, textures, and formulas available in the market today, it shouldn't come as a surprise that people want to get the most out of this superstar product. And if you've been using lipstick only to colour your lips, hear us out. We have compiled some of the genius lipstick uses that will blow your mind. From using the lipstick as an eyeshadow to contouring with a lipstick, here are five amazing uses of this all-in-one makeup essential.
Lipstick use 1: Lipstick as blush
You probably already know of this makeup hack, but if you don't, here's what you can do with your pink, red, orange, and nude lipstick colours – use them as a cream blush. Remember to use soft matte, velvety, or creamy lipsticks as they are easy to blend and will not feel heavy on your skin. Not sure how to use lipstick as a blush? All you need to do is simply dab a few dots of the lipstick on the apples of your cheeks and blend with your fingers or a dense brush. Using pink lipstick as a blush will give your cheeks a naturally flushed look.
Lipstick use 2: Lipstick as a colour corrector
Want to try your hands at colour correcting but not sure what colours to use? Here's another great lipstick use that you can try. Go for a red or orange lipstick and correct your dark under-eye circles or hyperpigmentation marks. Red or orange colours counteract the dark circles and spots. Apply a small amount of either of these lipstick colours to your under-eye area or on any dark pigmentation on your face and lightly tap in with your fingers or a beauty sponge. Apply your liquid foundation and concealer on top and voila! The dark spots and under-eye circles will be covered in a similar way as a regular colour corrector will do.
Lipstick use 3: Lipstick as contour
You can use a soft brown lipstick or go a couple of shades darker than your skin tone to contour your cheekbones, define your temples, and hide the pesky double chin. Creamy, crayon lipsticks are easy to blend and are great for beginners as well. However, if you are already a pro at liquid contouring, try using long-lasting matte or liquid lipsticks to get a more prominent contour. But be careful as these lipsticks can dry up fast, so you need to blend it quickly before it dries down on your face and leaves you with one bold streak of brown lipstick.
Lipstick use 4: Lipstick as eyeliner
If you are a fan of liquid lipsticks and have a collection of different liquid lipstick colours, congratulations! You just added a variety of new eyeliner colours to your kit. Take your favourite liquid lipstick and rub a clean angled brush along its wand and you just got yourself a brand-new liquid eyeliner. Long-lasting lipsticks are a perfect replacement for liquid eyeliners as they do not smudge or fade easily. This is a great way to have fun with colours without spending an extra rupee! Want to keep your look simple instead? Try a dark brown lipstick colour and line your eyes without going too wild.
Lipstick use 5: Lipstick as eyeshadow
Another common lipstick use that involves the eyes is using your bullet lipstick as creamy eyeshadows. Using lipstick as eyeshadow is a quick way to glam up your eyes effortlessly. You can also opt for glossy lipstick for a more high-fashion look. Bonus tip – use the same lipstick colour as lipstick, eyeshadow, and blush to create a simple monochrome look on the go!
There you go! Some great tips and lipstick uses that you can try right away, From the creamy and easily blendable crayon lipsticks to long-lasting lipsticks that will stay put all day long, there's something for every lipstick lover out there. Want to team these lipstick tips with a specific dress in your wardrobe? Here is all you need to know about matching your lipstick colour with your outfit! And if you're not yet sure of which lipstick shade you should invest in, head to the Maybelline Virtual Try-On tool to virtually try a variety of face makeup, eye makeup and lip makeup products, from the comfort of your home, without having to spend a penny. That's not it, you can also find your perfect foundation, and concealer shade match by heading to the Maybelline Foundation Finder tool!