Here's How To Ace The Simple Yet Glam Raksha Bandhan Look With Ease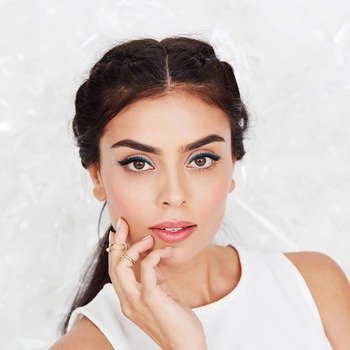 Raksha Bandhan, usually an intimate family celebration, celebrates the special bond between a brother and sister. But even a small, at-home celebration calls for a simple yet glam Raksha Bandhan makeup look, because why not! If you too are looking for ideas for a Raksha Bandhan look, or exploring ways to ace it, you've come to the right place! We're here with a quick and easy Rakhi makeup look that is sure to make you look beautiful as always while adding the perfect touch of glamour.
Simple Raksha Bandhan Look
1. Eye makeup
A very light-eye look is perfect to set the tone of your entire subtle glam. Start by applying some primer to your lids, this will help in a smooth eye makeup application. A couple of minutes after applying your primer, you can begin placing your eyeshadow. For a simple Raksha Bandhan makeup for eyes, you can play with neutral colours for your eyeshadow. A brown base with flecks of dull gold will be perfect for the occasion.
Take a matte brown eyeshadow closest to your skin tone, and buff it across your upper eyelids. Take a darker brown shade and place it on your crease. After blending it, you can take a golden shimmer from your glittery eyeshadxow palette and apply it to the centre of your eyelids while blending it very lightly. Blend it towards the outer corner of your eyes too. This will create a beautiful halo eye look, which is the perfect eye makeup for Raksha Bandhan. Then, take your eyeliner and create a very thin line across your eyelids. We would recommend keeping the wing thin and minimal, as it will complement the simple glam. Use your kajal to smoke out your waterline. Fill in your eyebrows and complete your Raksha Bandhan look with coats of mascara.
2. Face Makeup
A minimal yet flawless Raksha Bandhan makeup look for the face is perfect for this occasion. For your face makeup, start with a pore-minimising primer to ensure your foundation and concealer glide smoothly. Pick a matte foundation and spot-correcting concealer that is the perfect shade for you. If you're having trouble finding your perfect shade, you can use the Maybelline Foundation Finder Tool. This virtual tool will help you identify your shade match perfectly, from the comfort of your home.
Once figured, apply a light layer of foundation and concealer, and blend it well. If you want to add a slight glow to your base, you can mix a drop of strobing liquid with your foundation. This will help in giving your skin a pearlescent finish. Set your base makeup with some powder and use some blush to add colour to your face. Further, use your favourite highlighter to add glow to the high points of your face such as the cheekbones, bridge of your nose and cupid's bow. Lastly, lock this beautiful Raksha Bandhan makeup look in place with a few spritzes of setting spray.
3. Lip makeup
It's time to add some colour to your lips. Since the face and eye makeup for this Raksha Bandhan makeup look is so minimal, you can experiment with a creative lip makeup of your choice. As a finishing touch to your Raksha Bandhan look, you can opt for light pink or nude lipstick or even choose a deep plum or red shade, depending on your outfit.
If you are in the mood for something muted and light for your Rakhi makeup look, you can choose a pink-toned nude. A 'my lips but better' lipstick shade will be the perfect match. If you are looking for a darker colour option, you can choose between deep wine, maroon, or red lipstick. It will elevate your look and add depth and definition to your pout instantly. If you want a lipstick option that is between the two-colour families, you can opt for a chocolate brown or a brown-toned nude lip colour. If you're unsure of what shade will suit you the best, you can use the Maybelline Virtual Try-On tool to find your most-suited lip shade in seconds. With this tool, you can try different lipstick shades virtually, from the comfort of your home, without having to spend a penny. Once you have decided on your lipstick shade, make sure you apply a lip balm to hydrate your lips first. Then, apply an even layer of lipstick across your lips. And voilà, you're all set.
So, what are you waiting for? Try the above-mentioned simple yet creative Raksha Bandhan look and have all eyes on you this festive season!