Devil & Angel – Spook Everyone With These Easy Halloween Makeup Looks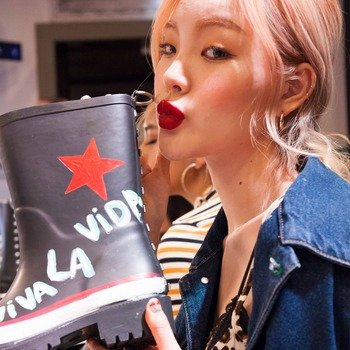 Generally, there are two types of people on Halloween – one who plans a Halloween look months in advance and the other, who struggles till the last minute on figuring out what to wear at the Halloween Party. If you're a member of the procrastination nation, you're in for a treat as we're here to help you gear up to spook your friends this Halloween. We've picked two iconic looks that you can easily recreate in a few simple steps, using products that you already have in your makeup kit. We're talking about Angel and Devil makeup looks for Halloween. But before we present before you the two different types of easy Halloween makeup looks - devil and angel, allow us to provide some long-lasting base makeup for Halloween.
Tips to Ace Easy Halloween Makeup Looks
Regardless of the character you choose, follow these steps to create a flawless base for your easy Halloween makeup looks that will last through the night –
1. Primer- Every makeup look, including a simple and easy Halloween makeup look, requires a solid, flawless base. So, prep your skin with a pore-blurring primer to ensure that your base is smooth and holds the entire face makeup really well.
2. Foundation– Use a long-wearing liquid foundation that will give you a long-lasting, high-impact coverage that won't shift or fade as you party the night away.
3. Concealer – Illuminate your face and give your complexion a boost with a full-coverage concealer. If you prefer a more natural, skin-like coverage for your easy Halloween makeup look, use a lightweight, buildable concealer to cover your dark circles and conceal blemishes, acne scars, and other dark spots.
4. Setting powder – Set your makeup in place and make the angel and devil makeup look smudge-resistant by adding a light layer of powder all over your face. If you have dry skin, you can add the powder only to set your under-eyes and mattify those areas that tend to get shiny like the T-zone.
Alluring Angel
Soft, innocent eyes, radiant skin, and a perfect pink pout – this angel makeup for Halloween will have you looking heavenly at your next theme party.
• Eye Makeup
Start the angel makeup for eyes by applying a primer or concealer. Next, use some soft pink eyeshadow shades on your eyelids to define them. Then take a white glittery eyeshadow shade and apply it to the inner corner of your eyes.
Outline your eyes with a brown eyeliner and slightly extend the eyeliner to elongate your eyes. Shape and define your eyebrows while still keeping them natural. Lastly, finish off your eye makeup with a curling mascara that leaves your lashes looking wispy and fluttery.
• Face Makeup
Give your complexion a healthy-looking flush by adding lots of pink blush to the apples of your cheeks and the bridge of your nose. You can also add just a touch of colour to your temples and chin to give this easy Halloween makeup a sun-kissed look.
You can never have enough when it comes to a highlighter. Illuminate your face with some metallic highlighter to create an extra dewy yet simple angel makeup for Halloween.
• Lip Makeup
Complete this angel makeup for Halloween by colouring your pout in a soft pink lipstick. Look for a shade that enhances the natural colour of your lips. We recommend topping it off with a tinted lip balm to keep your lip makeup looking fresh, hydrated, and natural.
Desirable Devil
For those of you who love making a statement, this dramatic devil makeup look for Halloween will keep all eyes on you wherever you go.
• Eye Makeup
It goes without saying that the devil loves drama, and what better way to add drama than by flaunting a bold and intense smokey eye. For a show-stopping devil makeup, create smokey eyes and follow it up with a kajal and mascara. For some extra oomph, add a vibrant red hue to the centre of your eyelids. If you're a fan of bold eyebrows, this is your time to shine. For your eyebrow makeup, use an eyebrow pencil to draw thick, dramatic eyebrows and complete the eye makeup.
• Face Makeup
To get chiseled cheekbones that can cut through glass (channel your inner Maleficent!), use a cream contour stick to carve out your cheekbones and then go in with brown eyeshadow to take the simple Halloween makeup look up a notch.
• Lip Makeup
It's often suggested that your makeup should emphasise either your eyes or your lips. Well, we are here to tell you that you can toss your makeup rulebook out the window, at least for this Halloween devil makeup look. Go ahead and pair your dark smokey eyes with the deepest, darkest red lipstick you have in your vanity and flaunt a devilish yet sultry blood-red pout.
And there you have it – two easy Halloween makeup looks that even absolute beginners can ace! To all the makeup beginners and pros out there! Make your last-minute Halloween makeup session hassle-free and quick by heading to the Maybelline Virtual Try-On tool. This tool allows you to explore and experiment with different products and lipstick shades, from the comfort of your home, without spending any penny. While talking about virtual beauty tools, you should also check out the Maybelline Foundation Finder tool, which will help you find the right shade of the foundation. So, try out these two easy Halloween makeup looks and go 'trick-or-treat' your friends this spooky season.