How To Use Lip Contour To Make Them Look Bigger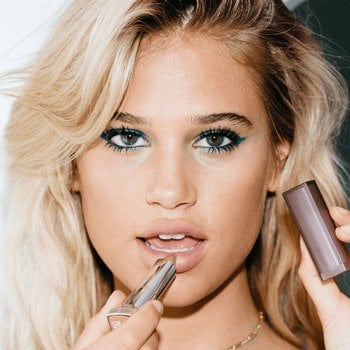 If you like to keep up with makeup trends or scroll through the feed of beauty gurus, you'll notice a few similar patterns in their makeup. Along with bold eyebrows and eyeliner so sharp it could kill; they all have the perfectly full pout. In some cases, the pout is all-natural. But in other cases, it is the magic of lip contouring. A natural pout and big lips are not facial features everyone is naturally blessed with. While several people go through surgical procedures to get a bigger pout, it might not be everyone's cup of tea. If you're looking for 'how to make your lips look bigger,' you've come to the right place. Here is a guide that will teach you what is lip contouring and how to contour lips.
What is lip contouring?
Lip contouring is the act of enhancing the natural shape of your lips and making them look bigger, fuller, and poutier. You can easily add depth and dimension to your lips by using concealer, lip liner, lipstick, lip gloss and highlighter. Now that you're aware of what is lip contouring, let's understand how to contour lips in a few simple steps below.
How to contour lips?
Here's how to make your lips look bigger instantly -
• Step 1: Line your lips
To begin with lip contouring, start by using a lip liner to create an outline of your lips. Choose a lip liner that is as close to the colour of your lipstick, or a couple of shades darker. Using a lip liner, draw an 'X' starting from the top of your cupid's bow on your upper lip. Then, draw a vertical line at the centre of your lower lip. Next, line the outline of your lips and fill it in slightly. Filling in your lips with a lip liner adds depth to your lips and makes your lipstick last longer.
• Step 2: Fill in with lipstick
Choose any lipstick formula of your choice from a variety of matte, creamy, satin or more and apply an even coat of it on your lips. Pick a colour closest to your lip liner. You can use the Maybelline Virtual Try-On tool to try makeup products in real time, from the comfort of your home, without having to spend a penny. Try multiple shades of all the products and buy the one you like the best!
Once you've applied the first shade all across your lips, take a lighter shade of creamy lipstick and apply it to the centre of your lips. Blend it well with your fingers. The lighter shade will add some volume to your lips and make them appear bigger.
• Step 3: Gloss it up
Pull out your coloured or clear lip gloss and apply it on your lips to make them look juicy, plump, and pouty. In case you want a matte look, you can skip this step. On the other hand, you can simply use your favourite lip balm if you don't have lip gloss in hand. All you need to do is apply a thick coat of hydrating lip balm and see your luscious lips shine!
• Step 4: Sculpt and highlight
This final step will help you find the perfect 4-step answer to your question of "How to contour lips or how to make your lips look bigger?" Once you're done applying some lip liner, lipstick, and lip gloss, take a concealer, that is closest to your skin tone and sharpen the shape of your lips. With a thin brush, draw around your lips and blend carefully. If you're afraid of messing with your lipstick, you can do this step after you've applied your lip liner. A concealer will enhance the shape of your lips and make them pop. Finally, to complete your lip makeup, use some golden highlighter and apply it to your cupid's bow. This will accentuate the shape of your cupid's bow and make your lips look fuller. That's it, you're all set.
Now that you have understood how to contour lips effortlessly, it is time to begin working on the rest of your makeup. The first thing to do is complete your face makeup and eye makeup. Start by applying some primer and apply foundation a couple of minutes later. If you're struggling to find the perfect foundation shade, you can use the Maybelline Foundation Finder tool to do so. With this tool, you can virtually try out several foundation shades and pick the one that is closest to your skin tone and undertone.
Further, add some concealer and set your base with some powder. After blending well, move on to adding some blush and highlighter. Then, apply some eyeshadow, kajal and eyeliner, depending on the look you want to create. Don't forget to add a few coats of mascara to your lashes and fill in your eyebrows. Once most of the makeup look is complete, it is time to excel your pout with our above-mentioned tutorial on how to contour lips with ease.