Makeup for men - Beginners kit, tips and tricks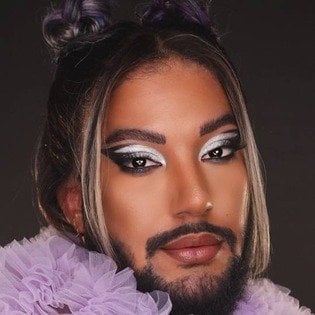 We've been told for years that makeup is meant only for women. Anyone who identifies themselves as he/him/his is always ridiculed for wearing makeup. However, this mindset is gradually changing for the good. In the past few years, we have witnessed a major boom in the trend of men wearing makeup. This has resulted in several men openly expressing their love and showing curiosity for makeup. If you are interested in the world of makeup, keep on reading to find out more about why basic makeup for men is good, makeup essentials that men should own and some makeup tips for men.
Why should men wear makeup?
Have you heard about something called natural makeup for men? It's a trend that is slowly catching up and garnering attention from men around the world. From celebrities to influencers and Gen Z, men wearing makeup have embraced their love for it. Makeup has now transitioned from the big screen to the mainstream, and we are here for the change! The popularity of men buying cosmetics is growing as more and more men are looking to enhance their appearance. With social media being a big part of all our lives, men too face the pressure of being camera ready at all times. Applying basic makeup for men is great for them to look well-groomed. Moreover, men wearing makeup look more put together and can effectively cover any imperfections like dark circles, puffy eyes, dark lips and more. A little touch of basic makeup for men can do wonders for your personality and take your grooming game a notch higher.
And yes, it is best to start small as less is more. When it comes to makeup for men, picking the right products and ensuring that you're doing it correctly can get a bit overwhelming. However, with little practice and patience, you can make this space your own. And once you are confident, you can experiment with different products, looks and colours. If you are curious about makeup, it's time you invest in what can be called a 'male makeup kit'. This men's cosmetics list will include products that will help you achieve a natural, flawless look without being too overwhelming. Here is a men's cosmetic list that will help you get started on your makeup journey:
1. Primer
Men's skin naturally has larger pores as compared to women's skin. It is important to fill these pores before following your makeup tutorial for men. A primer helps fill in your pores, smoothens your skin and creates a smooth canvas for your makeup. It also helps you achieve even skin that looks smoother. You can opt for a matte or dewy primer, depending on your skin type and needs.
2. Concealer
Initially, when you experiment with makeup for men, we recommend skipping on using foundation. Unless you are getting ready for a party, wedding, or event, you do not need high coverage. Using a layer of concealer to even out your skin tone and conceal your blemishes works just as well. To excel in the natural, basic makeup for men, start by applying a light layer of concealer and build upon coverage as you need.
As a beginner, it can get tricky to choose the right shade of foundation and concealer. With the Maybelline Foundation Finder tool, you can virtually shade-match yourself and find your perfect fit in just a few clicks!
3. Powder
This product is a great one to have in your men's makeup kit. Using a powder will help you set your base makeup in place and can give your skin a light amount of coverage. As a beginner, you can invest in a pressed powder. This product is super easy to use and has a great finish. It is also great for touch-ups and mattifying your skin.
4. Mascara
Mascara may not feel like a necessary makeup product for men, but in reality, it is a total game-changer. A few coats of mascara can elevate your simple male grooming makeup look by adding volume to your lashes.
If you are dicey about the way mascara will look on you, we have a solution for you. With the Maybelline Virtual-Try-On tool, you can try out different products from the comfort of your home, without spending a penny. All you need to do is try out different mascaras from our wide range and pick the one you like the best. You can also virtually try different face makeup, eye makeup and lip makeup products from our catalogue and buy the ones you love.
5. Lip balm
It is important to have soft, supple, and smooth lips. This is why everyone should have a lip balm in their makeup kit. Using a lip balm will help moisturise and nourish your lips. If you wish to go a mile extra, you can opt for a tinted lip balm as well.
Makeup tips for men
Now that we have our men's cosmetic products kit ready, let's learn about a few makeup tips for men!
• This rule is applicable for makeup for men and women alike - always start by prepping your skin. It is important to have well-prepped skin as it helps your makeup glide on better. By this we mean, follow your skincare routine religiously before applying makeup.
• Always wash your hands before applying makeup. It helps to maintain hygiene and start afresh.
• While choosing your concealer shade in person, look at it in different lighting, as this will help you find your perfect shade.
• Start with lighter coverage. When you are going for basic makeup for men, it is best to start with a light layer of product and slowly build it up. This ensures your makeup won't look cakey.
• A pro tip, if you have some foundation stuck in your beard, use some black mascara and run it through your beard. This will help conceal it. You can also use this hack to conceal any grey beard hair you may have.
Makeup sees no gender! If you are someone who loves makeup, experiment with it and embrace it despite your gender. In fact, more men taking an interest in makeup is a step in the right direction. We hope with the above-mentioned makeup guide for men, we have encouraged you to explore the world of makeup!