4 Korean Makeup Looks You Can Easily Recreate At Home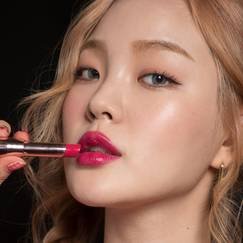 If you've been keeping up with trends, you would know that Korean trends have taken the world by storm. From K-pop, Korean food, Korean dramas to their skincare and makeup trends, everyone is obsessed. The way Koreans do their makeup is very different in comparison to how makeup is done in the west. Several popular Korean makeup looks have made it to the other end and people are trying to recreate them. If you're inquisitive about these looks and want to dabble into them yourself, here is a list of trends that is a reflection of the Korean makeup style. These trends will make you look 'yeppeo' (meaning pretty), cute and doll-like.
1. Gradient Lips
This lip makeup trend is perfect to wear on a daily basis and a very popular K-beauty trend. Gradient lips look casual and laidback in comparison to a well-done pout. To emulate the gradient lips look, you just need your matte liquid lipstick and an angled brush. Line your lips with a slightly darker lipstick colour with the help of an angled brush. Dot the liquid lipstick across your lips and smudge it with your ring finger. This will create a beautiful ombre look and you'll achieve the perfect gradient lips.

If you want to create gradient lips in a simpler manner, here is a makeup hack for you. Take a creamy matte lipstick and apply it to the centre of your lips. Take a lip balm and swipe it across your lips. With the help of your ring finger, blend the lipstick and lip balm together to create a beautiful ombre. This Korean makeup hack helps you get the perfect ombre pout in under a minute.
2. Korean style eyeliner
While doing our eyeliner, we tend to choose the winged eyeliner style. The classic Korean style eyeliner is quite opposite in comparison to the fierce cat-eye. Instead of creating a bold and sharp wing, people in Korea prefer to draw a thin line across their eyelids and extend the flick at a slight upward angle. The flick of your eyeliner has to be slightly lower than your lash line. This makes your eyes appear elongated and give them a natural, youthful vibe. This Korean style eyeliner is popularly known as the 'puppy' or the 'puppy dog' eyeliner style. You can recreate this trend with a liquid eyeliner or even opt for a gel eyeliner for more precision.
3. Puffy eye bags
The eye makeup trend of having puffy bags under your eyes or 'Aegyo Sal' is a very popular in the world of K-beauty. This Korean makeup look trend of having slightly puffier under eyes originated in Korea is now spreading across the globe. People have a puffier eye look when they smile naturally and it gives them an innocent and happier face. We are here with a simple routine of how you too, can achieve Aegyo Sal with the help of makeup.
Aegyo sal makeup is simple and needs only a couple of products. Start by smiling widely, as this will help you locate the line under your eyes for naturally-occurring Aegyo Sal. After this take some light brown matte eyeshadow and outline the puffy area with it. The next step is to take a pearl coloured illuminating powder or a stick highlighter and apply it in the space between your waterline and brown eyeshadow. After you are happy with the placement, blend it ever so slightly. The contrast between the brown eyeshadow and illuminating colour will create the perfect Aegyo Sal makeup look. To even out your eyes, apply some eyeliner and light dusting of eyeshadow across your lids.
4. Minimal eyeshadow
When you look up Korean makeup looks, they are pretty minimal. They focus on glass-like skin, minimal product and a natural flush of colour. Even when it comes to Korean eyeshadow looks, they don't like to do anything too elaborate. The Korean makeup style when it comes to eyeshadow is pretty straightforward and minimal. The look is to usually apply only one shade of matte eyeshadow across your lids on an everyday basis. You can play around with different colours or stick to neutrals depending on your mood. To jazz up Korean eyeshadow looks, you can also add a bit of shimmer or glitter to your lids. This will open up your eyes and make them pop.
The world is in love with K-beauty trends and so are we! This list of Korean makeup look trends is simple to recreate and can be worn daily. So, go ahead and try these makeup looks and feel like the female lead of your favourite K-drama.