Ganesh Chaturthi 2023: Festive Makeup Ideas To Look The Best From The Rest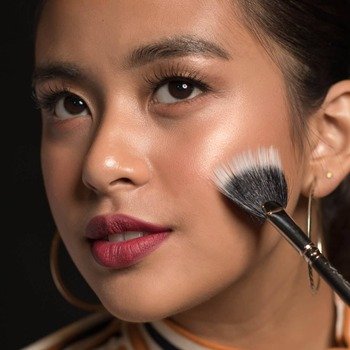 The joyous occasion of the arrival of Lord Ganesha is finally here. We're sure the excitement is high as we gear up for pandal hopping, gorge on the delicious modaks, and turn up in our best festive outfits. But have you decided on what kind of look you want to go for while welcoming Ganpati Bappa? To avoid any last-minute confusion, allow us to help you shortlist some show-stopping Ganesh Chaturthi looks, which you can easily recreate in a few simple steps. We have collated a list of four Ganesh Chaturthi looks that will elevate your glam quotient and make you feel the best from the rest. Keep reading to find out more!
4 simple yet elegant Ganesh Chaturthi looks
Here is a list of 4 Ganesh Chaturthi looks you can try this year:
1. Coloured eyeliner
Let your eyes do the talking by adding a pop of colour to them. If you're not in the mood for an elaborate eyeshadow look, apply a simple stroke of colourful eyeliner to amp up your eye makeup. Swap that black liquid eyeliner with a brown, navy or silver one! This simple change will elevate your Ganpati makeup ensemble and add a subtle glam quotient.
For this makeup look, start by applying primer to your lids and let it set for 30 seconds. After this, brush a nude eyeshadow across your lids. This will neutralise your eyes and help the colour of your eyeliner to shine through. Choose a coloured eyeliner of your choice and create a sharp wing. Try to keep the thickness of the wing minimal in this Ganesh Chaturthi look, as a thick liner may make you look overdressed.
2. Beaming highlighter
Any Indian festival is incomplete without a quotient of glow! Amp up your Ganesh Chaturthi makeup look by adding a subtle glow to your face using a highlighter. While doing your face makeup, seal it in with some shiny and ethereal highlighter and enjoy a luminous glow from within. Adding some highlighter to the high points of your face such as your cheekbones, the bridge of your nose and cupid's bow will make your features stand out. It will also add definition to your look and brighten your Ganpati makeup.
To keep things natural, mix some of your strobing cream with your foundation. This will give your Ganpati makeup look a dewy base and help you achieve a subtle glow. Alternately, you can apply a powder highlighter to the high points of your face. This will make you beam from miles! If you're planning to flaunt a sheen without using multiple base products, we recommend skipping the foundation and using a stick highlighter on your bare face.
3. Bold Lippie
A bold lipstick is a great way to add a pop of colour to your lips and the perfect touch to your Ganesh Chaturthi Makeup look. You can experiment with different lip colours and choose one that matches your mood. From bright pinks, oranges, reds, or maroons, you can take your pick!
Before you start your lip makeup, make sure to prep and hydrate your lips with a lip balm. This will ensure that your lipstick glides on smoothly without leaving you with chapped lips. Then, outline your lips with a lip liner and then follow it with a bold lip colour. If you're looking for super long-lasting lipstick that lasts all day without any touch ups, opt for a waterproof, liquid matte lipstick.
4. Smoky waterline
To enhance your Ganesh Chaturthi look, give your eyes the mesmerising touch of kajal. If you are looking for a minimal Ganpati makeup look, this is the look for you. Simply take your super black kajal and swipe it across your waterline. Now, take a fine brush and smoke it out slightly. This will create a no-effort smokey look for your eyes. Follow it up with a mascara to make your lashes look wispy. Pair this eye makeup with nude lipstick, and you are ready to flaunt your fuss-free Ganesh Chaturthi look.
Pro tip: You can further define the shape of your eyes by lining your lash line with kajal.
While recreating these flawless Ganesh Chaturthi looks, make sure that you don't skip using a primer, foundation, concealer, and powder. Not sure if you have the right foundation shade? Head to the Maybelline Foundation Finder tool to solve this dilemma in just a few clicks.
Similarly, if you're not sure about which lipstick or eyeshadow shades will look good on you, try the Maybelline Virtual-Try-On tool that allows you to experiment with a variety of makeup products virtually, from the comfort of your home, without having to spend a penny. Simply choose the category of products you want to try and grab the ones you like. Once confident, try one of the above-mentioned Ganesh Chaturthi looks and have all eyes on you this festive season!