4 Vibrant Holi Makeup Looks That You Can Rock This Festive Season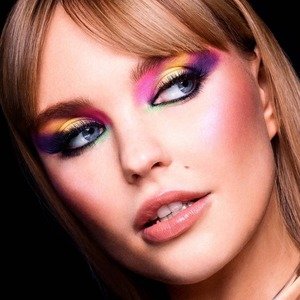 Holi is almost here and you might have plans to either drench yourself in colours or host a vibrant Holi party for your friends and family. Whatever your plans are, you now have a perfect opportunity to play with colours and makeup. And in this article, we'll help you get ready for Holi. Now is the time to keep those neutrals and nudes at bay and add a splash of colour to your makeup. On this note, let's look at some vibrant Holi makeup looks that you can totally rock with ease.
4 Colourful Holi makeup looks
Listed below are 4 Holi makeup ideas that you can try this year:
1. Monochrome Holi makeup look
The best part about monochrome makeup is that it helps you experiment with various shades of the same colour. To excel in this Holi special makeup look, start by acing your base makeup as usual and then add a pop of colour to your cheeks with coral blush. To achieve the perfect Holi eye makeup, reuse your blush, and sweep it across your eyelids. Complete your monochrome makeup look for Holi by colouring your pout with coral lipstick.
2. Colourful Holi makeup look
Start your face makeup with primer, foundation, and concealer. Then, add glow to your face by using a highlighter for some dazzling shine. Shape your eyebrows well and elevate your Holi eye makeup by using a vibrant green eyeshadow. Pair the Holi eyeshadow with navy-blue eyeliner on your lower lash line to create a show-stopping look. If you wish to go a mile extra and love playing with contrasting colours, finish off this Holi makeup look with fuchsia lipstick.
3. Glam Holi makeup look
Keep the base of Holi makeup simple and take your eye makeup up a notch with this look. For this glamorous Holi makeup look, use bronze or deep brown eyeshadow shades to colour your eyelids. Add intense drama to your Holi eye makeup by outlining your eyes with kajal. Next, use waterproof mascara for thick and voluminous lashes that won't leave streaks down your face while you enjoy your Holi celebration. Go for dark to deep lip colours such as maroon or dark brown lipstick to complete this stunning makeup look for Holi.
4. Shimmery Holi makeup look
Once you are done with your base makeup, use the contour to enhance and define your features like a pro. This will help you get sharp cheekbones and a defined jawline. Add a hint of colour to your face using nude blush. Seal the deal by adding lots of gold and shimmer to your eyes. To look the best from the rest, use dazzling and shimmery eyeshadow shades infused with metallic gold pigments. Next, top your Holi eyeshadow with kajal or eyeliner or both. Finally, stun the scene by finishing your look with a classic red lipstick.
For any Holi makeup look to stand out or look perfect, you need to set your base makeup well to prep your face for the rest of the makeup.
Step-by-step guide on base makeup
Here's how to achieve a flawless base makeup for Holi-
Step 1: Primer – Use a primer to create a smooth canvas for the rest of your Holi makeup.
Step 2: Foundation – Apply foundation to get an even complexion and smooth texture.
Step 3: Concealer – Conceal your dark circles, spots and blemishes, and highlight your beautiful features with concealer.
Step 4: Powder – Control sebum, shine and oil on your face and lock your makeup look for Holi with a compact or loose powder.
If you are not sure about your foundation shade, try the Maybelline Foundation Finder tool. This tool helps you find the perfect foundation shade for your skin tone in just a few clicks from the comfort of your home without spending a penny.
Now that you know about the different looks you can sport on Holi, go ahead and add as many colours as you can on your face. In case you're scared of experimenting, you can try the products virtually on the Maybelline Virtual Try-On tool. This tool helps you try different eye, lip, and face makeup products, from the comfort of your home, without spending a penny. Once you are confident, try one of these makeup looks for Holi and have all eyes on you this festive season.