Find The Right Mascara For Your Eyes On National Lash Day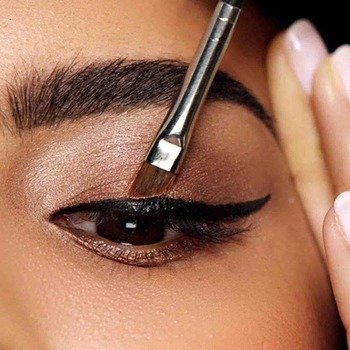 If you're done celebrating Valentine's Day, we're here with another opportunity for you to dress up, and majorly let your eyes do the talking. We're talking about National Lash Day that is observed annually on February 19 to celebrate people's shared love for eyelashes. We too will celebrate lash day in our own unique way by teaching you ways to add more volume to your natural eyelashes, and also exploring lashes' fashion and advantages. If you are searching for ways to make your lashes look longer, thicker or darker, you've come to the right place as we're here to help you. So, on National Lash Day, let's learn a bit more about the importance of a mascara, its various types and invest in one that helps you get long and fluttering lashes with ease. So, read on to know how to achieve the ultimate eye defining look.
4 Types of Mascara To Try On National Lash Day
Did you know there are at least four different types of mascara? Well, now you do, and we are here to talk about each type in detail. Here's a list of mascaras that will help you and celebrate eyelash day every day.
1. Curling mascara
A curling mascara traditionally contains ingredients that help your lashes hold the curl. Looking for a curled effect with a thick pad? Try the Maybelline Hypercurl Washable Mascara that contains an exclusive curl-lock formula and sealing wax that stays for up to 18 hours. This mascara gives you thick, volumised curl (from roots to tips), and ultra-glam lashes without you having to worry about re-doing your eye makeup every few hours.
Being washable, this mascara is soft on the eyelashes and makes sure that there isn't any loss of hair strands. The curling mascara is best for users with hooded eyes who often worry about mascara getting on their upper lids. What's more, this curling mascara comes with an innovative brush that allows you to skip your regular eyelash curler. The best way to get the most of a curling mascara is to use the product at the roots to allow it to take shape.
2. Volumising mascara
Looking to add an extra dimension to your eyelashes on National Lash Day? This volumising mascara can come to your rescue. Go for the Maybelline Colossal Washable Mascara that boosts the volume of your lashes effortlessly. This mascara is one of the most popular types as it adds a dramatic effect to your eyelashes without causing any clumps.
Made with a smooth glide formula that contains collagen, this volumising macara helps achieve twice the volume. Thanks to the Mega Brush that delivers the effect instantly! What's more, this mascara is suitable for people who wear contact lens, and even those who have monolids. So, grab the chance to celebrate National Eyelash Day and give your natural lashes a volumising boost with this volumising mascara. To create an instant volume and capture every lash, sweep the brush from the root to the tip with gentle pressure.
3. Waterproof mascara
Planning on watching an emotional movie or having a feeling that you're going to cry at your best friend's upcoming wedding? This waterproof mascara can come to your rescue. The Maybelline Colossal Waterproof Mascara does not budge for up to 12 hours and is one of the best waterproof mascaras for the Indian climate.
The waterproof formula of this mascara helps elevate your lashes in a single coat without any smears. This mascara is the perfect match for large and round eyes as the formula of this product helps to give an instant lift to your lashes. When applying it, focus on the outer corner of your top lash line to give your eyes a cat-like effect.
4. Lengthening mascara
Short lashes got you down? Now's the time to turn your attention to a lengthening mascara and ace the eye game on this National Eyelash Day! Lengthening mascaras have ingredients like fibres that can attach themselves to your lashes and make them appear longer. Make your lashes look like you just got a professional lash lift service, with the Maybelline Lash Sensational Waterproof Mascara. This mascara comes with a fanning brush (containing ten layers of bristles) that delivers long, supple, and separated lashes without weighing them down.
This mascara is ideal for people with small eyes as it grabs even the tiniest baby lashes and makes them appear much larger and longer. Coat every lash by swiping the mascara wand with the outer bristles and use the inner bristles to unfold the lashes. Focus the lengthening mascara on the centre of your eyelid as this will draw focus towards the centre of the eye, making it appear more open, wider, and larger not only on National Lash Day but every other day.
You can also extend the happiness of flaunting voluminous, curly, sky-high lashes to your bestie. Wondering how? Wish them Happy National Lash Day and gift them any of the abovementioned mascaras. Now that you know about the different types of mascaras, choose one that suits your eyelashes the best.
If you are excited to try these mascaras right away, head to the Maybelline Virtual Try-On tool to see how each mascara enhances your look. This tool lets you virtually try on different eye, lip and face makeup products such as foundation, concealer, or powder in real-time with zero commitment.