BIRTHDAY MAKEUP: 5 DIFFERENT LOOKS TO TRY FOR THIS SPECIAL DAY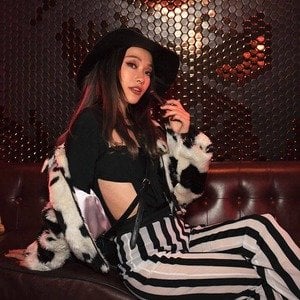 IT'S (ALMOST) YOUR BIRTHDAY! And it definitely calls for a celebration, be it big or small. Whether you're just entering your teenage years or celebrating the big 3-0 milestone, you need to get your glam on. You can either opt for a natural look or go all blingy with your birthday makeup, after all it's your day and you get to decide what look you want to go for. But in case you're looking for suggestions, we are here with our favourite makeup ideas for birthday that would help you tick one thing off your party preparation checklist.
5 Birthday Makeup Ideas
Check out the list of 5 different birthday makeup ideas;
1. Bold red lips for birthday makeup
A bold lip colour makes a statement like no other! You can create a look for your birthday makeup focusing only on lips.
Step 1: Opt for a bold lip colour to let your lips do the talking. You can choose Maybelline Superstay Matte Ink Liquid Lipstick Rouge Reds. Or else, you can choose a dark lipstick shade. Wear bold lipstick shades like a pro and you are ready to rock your stunning glam birthday makeup look.
Step 2: A minimal makeup will perfectly match with this look. Complete your base makeup by applying primer, foundation, and cover skin imperfections with concealer.
Step 3: Wear cool or warm eye shadow shades of brown and pair them with gold or bronze shade to get the ultimate glam effect. Wear mascara, subtle blush and apply highlighter to get that 'lit from within' look.
2. Smokey Eye-focused birthday makeup
If you're planning to get ready for a ravishing birthday party at night, there is nothing more sultry than smokey eyes. Smokey eye makeup is sure to up your glam quotient and create an alluring look, and we'll show you how to ace it.
Step 1: Start with the Maybelline Tattoo Studio Smokey Gel Pencil Eyeliner to draw a thick line across your upper eyelids and blend it using the blender attached on the other side of the pencil. Once it is blended well, use some matte brown eyeshadow and diffuse the crease to ensure no harsh lines are visible.
Step 2: Complete the look with some mascara and apply a smidge of highlighter in the inner corner of your eye.
Step 3: After finishing your eye makeup, focus on face makeup by using products like primer, foundation, concealer. Complete your lip makeup by applying nude lipstick shades. With just these three simple steps, you can create a perfect smokey glam birthday makeup look for a night around the town.
3. Dewy birthday makeup
A birthday brunch is always a good idea! For the perfect brunch birthday party makeup look, opt for a dewy base, flushed cheeks and muted lips. These elements will create a daytime glam that will look natural yet elegant.
Step 1: Start by using minimal foundation and concealer to even out your skin tone. Make sure you choose a foundation and concealer shade that matches you perfectly. With the Maybelline Foundation Finder tool, you can find your best match from the comfort of your home.
Step 2: After setting your face with some powder, apply some blush to the apples of your cheeks and slightly on your nose as well. Use a rose gold highlighter on the high points of your face to get a slight glow.
Step 3: For your eyes, keep it simple with some kajal, eyeliner, and a few coats of mascara.
Step 4: For your lip makeup, choose your perfect shade of pink-y nude.
This simple birthday makeup is appropriate for daytime and is sure to make for the perfect birthday look.
4. Simple birthday party makeup
If you're not a huge fan of applying too much makeup, this makeup idea can be a good option for you. With just three products you can enhance your appearance and get birthday ready.
Step 1: Start this simple birthday makeup look by using some blush on your cheeks. Using blush makes your skin pop and is a great way to look presentable. If you don't have a blush, you can use your creamy lipstick and add some colour to your skin.
Step 2: Next, line your waterline with some kajal. This will add some definition to your eyes.
Step 3: As the last step, use a lip colour of your choice. You can even opt for tinted lip balm if you want something more natural-looking.
5. Glowing goddess birthday makeup
A glowing-goddess look is a classic choice for a birthday makeup look. This look is super versatile as you can wear it in the daytime and make it more glam for the night.
Step 1: Start by prepping your face with some primer. Apply a stick highlighter under your foundation for that extra touch of glow.
Step 2: Continue with your face makeup as usual, i.e., create the base by using primer, foundation, and concealer.
Step 3: Before setting your face apply some stick highlighter with your fingers to the high points of your face. Make sure your highlighter melts into your skin. Set your face lightly with loose powder and apply some powder highlighter to complete the look.
Step 4: For your eyes, keep it neutral and add a shimmery eyeshadow for some pop. Apply some mascara and lipstick to complete the birthday party makeup look.
If you're unsure of which products to pair together, you can take some help from the Maybelline Virtual Try-On tool. With this tool, you can virtually try different products and pick the ones you like the best! Struggling to find your perfect foundation shade? Utilise the Maybelline Foundation Finder tool and find the best match.
Now that you know about these different birthday makeup ideas, go ahead and create whichever you liked the most to make your day more special and beautiful.