3 Simple Baisakhi Makeup Looks You Need To Try This Festive Season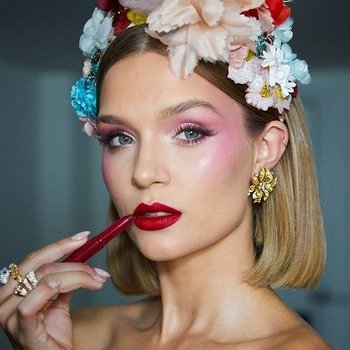 April marks the arrival of festive season across different cultures and religions with people celebrating their respective regional new year. Some call it Baisakhi in North India, Pohela Boishakh in Bengal, Vishu in Kerela and so on. This harvest time is welcomed and celebrated with music, fun and frolic, dance, and good food. Baisakhi is also the perfect time to put on your best traditional outfits and make heads turn with your festive makeup looks. If you are planning to ace your festive makeup look this season, we're here to help. Here's a simple guide to get the perfect makeup look for Baisakhi, Pohela Boishakh and Vishu that will help you stand out from the rest.
1. Baisakhi makeup look
Create a smooth canvas for your traditional Baisakhi makeup look with a primer before moving on to other products for your face makeup. It is best to opt for a light base in summers to prevent your makeup from melting and your face from looking cakey. For a natural yet snatched look, we recommend skipping the foundation and going in straight for the concealer. Once you are done with concealing the dark areas of your face, dust your face with a finishing powder to control the shine, oil and sebum. Finish your base makeup with a blush for a naturally flushed look. Now start your eye makeup by dabbing some eyeshadow on the centre and inner corners of your eyelid. You can opt for a shimmery eyeshadow shade to give your eyes a sparkling shine without looking over the top. If you wish to go a mile extra, turn this look into a smokey one by combining brown eye shadow. However, ensure to blend the product well into your skin with an eyebrow brush. Define and enhance the beauty of your eyes with a kajal. Finish off your simple yet stunning Baisakhi makeup with classic red lipstick. If you are unsure about which lipstick shade to match with your skin tone, try the Maybelline Virtual Try On tool to get your ideal shade match.
2. Pohela Boishakh makeup look
Get a perfect Pohela Boishakh makeup look and celebrate the day in high spirits. Apply primer, foundation, concealer, and pressed powder and blend them seamlessly into your skin to create a flawless makeup base. Ensure to choose a shade that matches your skin tone and undertone. Next, enhance your natural radiance by applying a highlighter on your cupid's bow, cheekbones, and the bridge and the tip of your nose. For the eye makeup, use dark pink eyeshadow and swirl the shade across the crease of your eyes. Then, use a natural coverage concealer to create a cut crease look, and set it with white eyeshadow and highlight your eyes with an eyeliner. Add a regal touch to your lips and create a statement by wearing the dark pink lipstick. For the perfect finish, accessorise the look with a red bindi and loose bun.
3. Vishu makeup look
You can opt for a no makeup look for your Vishu celebration. After applying the primer, foundation, and concealer, contour your jawline and cheekbones to get a chiselled look. Follow it with a rose or nude blush for a fresh and dewy look. Start your eye makeup by shaping and filling in your eyebrows with a slim-angled tip eyebrow pencil for evenly defined brows. Now, apply a nude eyeshadow on your eyelids and accentuate your eye makeup with a winged eyeliner. Finish it with a few coats of waterproof mascara and flaunt thick, voluminous lashes without any clumps, smears, or flakes. If you want to keep your lip makeup simple, apply a tinted lip balm, or conclude your Vishu makeup look by applying some nude lipstick that flatters your complexion.
Now that you know how to create these makeup looks, go ahead and create your own unique Baisakhi makeup trends. Choosing the best makeup products for your festive makeup looks is now easy with the Maybelline Virtual Try-On tool. This tool helps you experiment with different makeup products virtually, from the comfort of your home, without you having to spend a penny. Once you are confident, try one of these looks and level up your makeup game effortlessly.